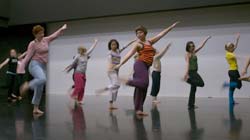 Trisha Brown's "Line Up" Comes to the Yonkers Community
The artistry of the legendary Trisha Brown, considered to be the most widely acclaimed choreographer to emerge from the postmodern era, is being shared with students and local residents in Yonkers by the Sarah Lawrence College Dance Program.
Made possible through an "American Masterpieces" grant from the National Endowment for the Arts, Sarah Lawrence students will be teaching aspects of the dance "Line Up" in a two-week residency at the Enrico Fermi School for the Performing Arts beginning on Friday, February 1, and will present a workshop, lecture/demonstration and a performance at Philipse Manor Hall on February 9th. A performance at the Riverfront Library will take place on March 10 at 11 a.m.
"Outreach to the community is important for dance students to a gain greater sense of the work they're doing and the impact it can have in the community," said Kathy Westwater, a member of the Dance faculty who helped organize the program. "Exposing a lot of people –students of different ages as well as adults– with different backgrounds to Trisha Brown's work is a wonderful opportunity for us to share something very dear to dancers," she said. "Typically Sarah Lawrence College students show their work to their peers. This program has allowed us to take the work off campus, giving the students a visceral experience in real, dynamic environments."
"'Line Up' is a historic work, a masterpiece, and a great entrée into the world of dance for people who haven't experienced it before," said Sara Ruder, director of the College's Dance Program.
According to Westwater, "Line Up" was created at a time when young dance groups were using new techniques incorporating everyday things they saw around them, which at the time was considered avant-garde. Today the work is engaging for people new to dance because of its use of the everyday: everyday movements, everyday sounds, such as a Bob Dylan score, and everyday clothing.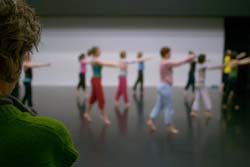 Dance magazine's New York editor, Wendy Perron, was a member of Trisha Brown's company in the 1970's. Writing in The New York Times in 2001, she recalled her role helping to create "Line Up." At one point as she and others were rehearsing, she beckoned Brown with her hand, saying "c'mon Trisha." Brown incorporated the hand motion into the piece. Perron wrote: "The stream of motion can be exhilarating kinetically – and philosophically. It seems to speak of universal motion, of an inevitability that is not about fate but an embrace of the on-going-ness of life."
The thirteen dancers in the program are undergraduate and graduate students: Vivi Amranand, Ilona Bito, Mary Chris DeBelina, Naomi Fall, Elizabeth Gorgas, Belinda He, Jessie Long, Meghan McCoy, Cavin Moore, Erin Reck, Elaine Ruscetta, Jules Skloot, and Janet Werther.
The Schedule:
Enrico Fermi School For The Performing Arts
Workshops
Friday, Feb. 1 – 9:15-10:15 a.m.
Monday, Feb. 4– 9:15-10:15 a.m.
Friday, Feb. 8 – 9:15-10:15 a.m.
Monday, Feb. 11– 9:15-10:15 a.m.
Wednesday, Feb. 13–9:15-10:15 a.m.
Friday, Feb. 15– 9:15-10:15 a.m.
Philipse Manor Hall
Workshop, Lecture Demonstration, Performance --Saturday, Feb. 9
Registration – 10 a.m.
Workshop – 10:30- 12 p.m.
Lunch Break – 12-1 p.m.
Lec-Dem –1:30-2:15 p.m.
Performance of "Line Up" – 3 p.m.
Yonkers Riverfront Library
Performance of "Line Up"
Monday, March 10, 11 a.m.