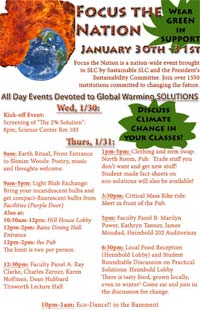 Contact: Garett Reiss Brennan (National)
garett@focusthenation.org, 503-768-7990
Contact: Judith Schwartzstein (Sarah Lawrence)
judiths@sarahlawrence.edu, 914-395-2219 
On January 30 and 31, 2008, Sarah Lawrence College will participate in Focus the Nation, joining over 1,000 colleges and universities around the country in an unprecedented national teach-in on solutions to global warming.
The student environmental group Sustainable SLC has planned a variety of events including two faculty panels, a student-led discussion on solutions, a local food reception, a bike ride to promote freedom from fossil fuels, a dance, an art show, a spiritual earth ritual, and a clothing swap. In addition, many faculty members will be including teaching and discussion about climate change in their regular classes throughout the day. A schedule of events follows below.
Focus the Nation also represents the launch of an energy-saving competition between dorms at Sarah Lawrence throughout the month of February. This is part of a national campaign called "National Campus Energy Challenge 2008". In collaboration with the administration, the student group Sustainable SLC will be comparing this year's February emissions to those of February 2007, and rewarding those dorms that make the biggest cuts.
Focus the Nation created a teach-in model centered on the three most essential pillars for today's youth to embrace solutions to global warming: education, civic engagement, and leadership.
Project director of the national initiative and Lewis & Clark professor of economics Dr. Eban Goodstein said, "Today's college students are truly the greatest generation. No other generation has ever had to face this kind of civilizational challenge. And we as educators would be failing if we did not prepare them with the tools to meet this challenge."
"We are in a time where critical decisions need to be made on global warming, which means today's leaders and the youth who will inherit the crisis need serious education on the issue," said James "Gus" Speth, dean, Yale School of Forestry and Environmental Studies. "Focus The Nation is our country's foremost model to create that level of education and interaction with law makers."
At Sarah Lawrence, sophomore Justin Butler said, "The fact that the entire campus community has come together for this event proves how much we can get done—and shatters the myth of the apathetic college student." Butler serves as co-chair of Sustainable SLC, which is organizing most of the day's events.
Focus the Nation:
Schedule of Events at Sarah Lawrence College
Wednesday, 1/30
8 p.m. - Kick-off Event
Screening of "The 2% Solution", a webcast produced by the National Wildlife
(Science Center Rm 103)
Thursday, 1/31

9 a.m.
Earth Ritual (SLC Woods)
10:30 a.m. - 2:30 p.m.
Light bulb swap—Students may bring incandescent light bulbs and receive compact fluorescent light bulbs in exchange (multiple locations).
12:30 p.m.
Faculty Panel A: Karen Hoffman, Environmental Studies; Ray Clarke, Biology; Charles Zerner, Environmental Studies (Titsworth Lecture Hall)
1 p.m. -5 p.m.
Clothing swap (North Room, Seigel Center)
3:30 p.m.
Critical Mass Bike Ride
5 p.m.
Faculty Panel B: Marilyn Power, Economics; Jamee Moudud, Economics; Kathryn Tanner, Geography (Heimbold Auditorium)
6:30 p.m.
Local food reception and student roundtable discussion on practical solutions (Heimbold Lobby)
10 p.m. -1 a.m.
Eco-Dance ( Basement)
The final piece of Focus the Nation's teach-in model will be the Choose Your Future vote. All students, faculty and community participants will be encouraged to vote on what they think are the top five solutions from a list of ten to fifteen that will be available January 21, 2008 at www.focusthenation.org. Vote results will be presented nationally in mid-February. All students who vote on the Choose Your Future ballot will be eligible to win a $10,000 leadership scholarship for a project to be completed by end of August 2008.
For more information on Sarah Lawrence College and their participation in Focus the Nation, please visit http://www.focusthenation.org/, or call Judith Schwartzstein at (914) 395-2219.