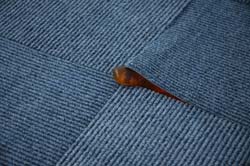 Analia Segal "CARL"
Tuesday, January 29, 2008 to Tuesday, February 19,  2008
Barbara Walters Gallery
Hours: M – F 9 a.m.-5 p.m. S/S 10 a.m.-4 p.m.
Opening Reception: Tuesday, January 29th, 1:30-3:00 p.m.
Sarah Lawrence College is pleased to announce "CARL", an installation by Analia Segal. On view at the Heimbold Visual Art Center's Barbara Walters Gallery, it is free and open to the public. For more information please call 914-395-2355 or e-mail cstayrook@slc.edu.
Analia Segal's exhibition is a part of the on-going emerging artists series held during the 2007-2008 academic year. Members of the college's visual arts and visual culture faculty, in conjunction with their students, select each artist in the series.
Analia writes the following about her installation:  "CARL is a new body of work that invites viewers to occupy the work's space by walking on it while creating a spatial dialogue between them and the sculpture. Carpeting is such a common and basic feature in most buildings that becomes invisible in our daily lives. The selection of the carpet, quality and color, attempts to resonate and intensify our experience of most public or corporate buildings. Carpet tiles, a standard commercially available material, compose these floor installations. By consistently keeping up serial sequences – similar elements are lined up or placed at irregular intervals - the overall impression of a work comes to the fore. The undulating, warped, carnal qualities of the rubber pieces that appear behind the carpet bring out sensuality to an industrial material. These artificial topographies invite the viewer to comprehend the work in the process of experimenting it. They are the arena that examines the ambiguity and paradox of function/non-function, turning the anonymity generally associated with non-places such as office spaces, waiting rooms, hallways, airport into places defined as relational concerned with identity."
Analia Segal was born in Rosario, Argentina.  She has shown extensively around the world including the Kobo Chika Gallery in Tokyo Japan, the Museo de Arte Moderno in Buenos Aires, and the Plus Ultra Gallery in New York.  Analia's work has been reviewed in The New York Times, Artnews, and I.D. Magazine to name just a few.  Currently, Analia Segal lives and works in New York City.