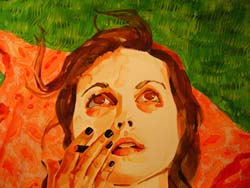 Jennifer Levonian "Smells Like English Boxwood"
Thursday, November 29th 2007 to Thursday, January 3, 2008
Barbara Walters Gallery
Hours: M–F 9 a.m. – 5 p.m. S/S 10 a.m. – 4 p.m.
Opening Reception: Thursday, November 29th , 5–7 p.m.
Sarah Lawrence College is pleased to announce "Smells Like English Boxwood", a solo exhibition of animation and watercolors by Jennifer Levonian. On view at the Heimbold Visual Art Center's Barbara Walters Gallery, it is free and open to the Public. For more information please call 914-395- 2355 or e-mail cstayrook@slc.edu.
Jennifer Levonian's exhibition is a part of the on-going emerging artists series held during the 2007-2008 academic year. Members of the college's visual arts and visual culture faculty, in conjunction with their students, select each artist in the series.
Smells Like English Boxwood is set in the living history museum of Colonial Williamsburg in 1995. Colonial Williamsburg borders the College of William and Mary, Levonian's alma mater. Using satire and the clichés so dear to 'our' coming-of-age, this animation considers the human desire to take history at face value, as presented by any source, even when it verges on the absurd.  Jennifer says the following about her work, "By working with cut paper, I hope to connect the primitive, naïve force of the medium—the child-like innocence of cutting and pasting—to the kinetic energy of the moving image.  Freely moving between a technique that I practiced as a child and the sophistication inherent to medium of film, my work tries to capture the uneasy tension of living in a world always beyond our grasp and yet at the same time dishearteningly familiar."
Jennifer Levonian received her M.F.A. from the Rhode Island School of Art and Design and was also a resident at the Skowhegan School of Painting and Sculpture.  She has been in numerous group exhibitions around the country, including Exit Art in New York City, Cirrus Gallery is Los Angeles, and Arlington Art Center in Arlington, VA.  This is Jennifer's first solo exhibition in New York.