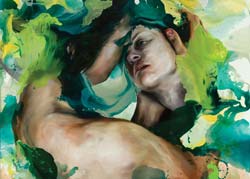 Angela Fraleigh "even"
Thursday, September 13th 2007 to Thursday, October 11th 2007
Barbara Walters Gallery
Hours: M – F 9 a.m. to 5 p.m. S/S 10 a.m. to 4 p.m.
Sarah Lawrence College is pleased to announce "even", a solo exhibition of paintings by Angela Fraleigh. On view at the Heimbold Visual Art Center's Barbara Walters Gallery, it is free and open to the public. For more information please call (914) 395- 2355 or e-mail cstayrook@slc.edu.
Angela Fraleigh's exhibition is a part of the on-going emerging artists series held during the 2007-2008 academic year. Members of the college's visual arts and visual culture faculty, in conjunction with their students, select each artist in the series.
According to Chad Stayrook, gallery administrator, Fraleigh's paintings seem haunting and mesmerizing at the same time. On a physical level alone, their epic scale allows the viewer to seemingly step inside the frame and swim around in the abstract expressionist sea she masterfully renders, he says. But they go much deeper in that her expert handling of the figure fighting through this abstraction allows one to connect emotionally with the work, experiencing firsthand the angst, wonder, and mystery clearly evident in her subject's eyes. Michelle White, assistant curator at the Menil Collection in Houston, Texas, says of Fraleigh, "Under webs, curls and slabs of paint, male and female figures, rendered with the rigueur of old master painting, carry out a passionate, yet awkward, dance that slips in that wonderfully abject space between repulsion and desire, violence and lust." 
Fraleigh lives and works in Allentown, Pennsylvania, where she teaches painting at Moravian College. She has exhibited extensively around the country, including at the Museum of Fine Arts and the Inman Gallery in Houston, and the P.P.O.W. Gallery in New York City. Fraleigh was recently an artist in residence at the Kemper Museum of Contemporary Art in Kansas City, Missouri. This is her first solo show in New York.
Sarah Lawrence is a liberal arts college for men and women, founded in 1926, with a distinctive system of education. It is known for having one of the lowest (9:1) student/faculty ratios in the country. At the core of the system are small classes, regular one-on-one student-faculty conferences, cross-disciplinary approaches and the integration of the creative arts within the curriculum.