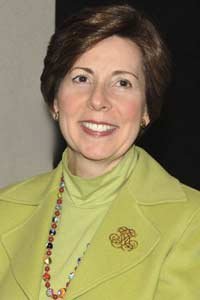 Alice M. Greenwald, '73, director of the World Trade Center Memorial and Museum, will address the graduating seniors and graduate students at Sarah Lawrence College's 78th Commencement on May 18. The ceremony will take place at 10:00 a.m. on the South Lawn.
In her first months as head of the memorial dedicated to telling the story of those who died in the events of September 11th, 2001 and February 26th, 1993, Greenwald has been recognized for her sensitivity to the highly emotional nature of the project and her keen understanding of its symbolic importance.
Prior to this position she was associate director for the United States Holocaust Memorial Museum where she had served as a technical expert and consultant since 1986 and was a member of the original design team. After graduating from Sarah Lawrence, Alice studied the history of religions at the University of Chicago's Divinity School. In the ensuing 30 years she worked at museums on the east and west coasts and was the principal of Alice M. Greenwald/Museum Services, providing consulting experience to a variety of clients in addition to the Holocaust Museum.
In one of the many interviews Greenwald has given since her appointment to direct the World Trade Center Museum, she revealed her hopeful perspective: "In the midst of the worst of humanity, you always get the best of humanity."
"I am personally thrilled that Alice has agreed to return to Sarah Lawrence to deliver the address at my last commencement as president of this wonderful, humane institution," said Michele Tolela Myers.
Sarah Lawrence is a liberal arts college for men and women, founded in 1926, with a distinctive system of education. It is known for having one of the lowest (9:1) student/faculty ratios in the country. At the core of the system are small classes, regular one-on-one student-faculty conferences, cross-disciplinary approaches and the integration of the creative arts within the curriculum.