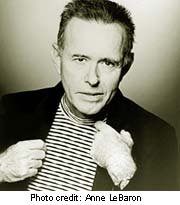 David Del Tredici's "70th Birthday Concert"
Wednesday, April 4
Reisinger Concert Hall
8:00 p.m.
There is no cost of admission for this event.
Sarah Lawrence College hosts a 70th birthday celebration for award-winning composer David Del Tredici on April 4. The highlight of the commemoration is a concert featuring solo piano music including Del Tredici's "Three Gymnopedies," played by Marc Peloquin, and a song cycle, "Miz Inez Sez," sung by Melissa Fogarty with Peloguin at the piano, at 8:00 p.m. The concert is preceded by a panel discussion with Del Tredici on the composer's life and work, moderated by Chester Biscardi, SLC composer and Director of the Music Program, at 7:30 p.m. Both concert and panel discussion will take place in Reisinger Concert Hall. For more information, please call 914-395-2412.
David Del Tredici came to prominence with a series of works based on Lewis Carroll's "Alice" books. He is noted for his writing for large orchestral forces and was awarded the Pulitzer Prize in 1980 for "In Memory of a Summer Day." Other honors include the Guggenheim and Woodrow Wilson fellowships, the Brandeis and Friedheim Awards, and grants from the National Endowment for the Arts. Since the late 1990s, has written dozens of songs and vocal works on texts by American poets.
The birthday celebration continues a series of annual composer portrait concerts. Past honorees include American composers Milton Babbitt, George Crumb, and Mario Davidovsky.
Sarah Lawrence is a liberal arts college for men and women, founded in 1926, with a distinctive system of education. It is known for having one of the lowest (9:1) student/faculty ratios in the country. At the core of the system are small classes, regular one-on-one student-faculty conferences, cross-disciplinary approaches and the integration of the creative arts within the curriculum.