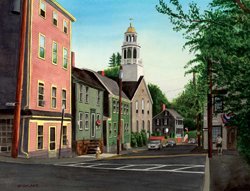 Scott Sager
"The Back Roads"
Exhibit
Sunday, April 1 through Saturday, May 12
The Gallery at the Esther Raushenbush Library
The Esther Raushenbush Library Exhibit Gallery at Sarah Lawrence College will host Scott Sager's The Back Roads, a series of watercolor paintings capturing New England scenery with photorealism. The exhibit runs from Sunday, April 1, through Saturday, May 12, and is open to the public during regular library hours. For more information, please call 914-395-2472.
The Back Roads does not aim to abstract the scenery in any way, but to try and capture it in as believable a way as possible, says Sager. "Most of the paintings are in fact off the beaten road, beauty discovered when kayaking through upstate Maine or walking down a back street in Marblehead." After exploring the area, Sager captures the scene with his camera, and retranslates the unexpected subject matter with the lighting of that moment. In staying true, he hopes his viewers, recalling their own memories, can then say to themselves, "Yeah. That's what it's like there."
Sager started painting the scenery as a high school student in his native New England. He earned a BS in Art from Skidmore College and later attended the School of Visual Arts. Four years ago, he decided to apply his nearly three decades of experience as an art director/creative director for large advertising agencies back into the watercolor medium. His work is in the permanent collection of the Publicis Advertising Network and numerous Westchester County solo exhibits are scheduled.