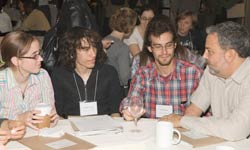 Sixteen members of the Sarah Lawrence community attended the Environmental Consortium of Hudson Valley Colleges & Universities' fourth annual conference, Greening the Campus: Exploring Practices, Curriculum and Management in Higher Education, at Purchase College in November. The SLC delegation was the largest among the 44 higher education institutions in attendance. Structured to encourage campus-wide representation, it included faculty, administration, students, donors, and a member of the board of trustees.
The conference brought participants together to develop strategies for integrating environmentally sound practices and green attitudes into their campus communities. National experts came to the Hudson Valley to provide a theoretical imperative, scientific data, and practical information for enhancing or implementing campus greening practices, policies, and programs. They offered examples of innovative practices to motivate participants and inspire greater attention to this vital area of environmental concern on participants' campuses.
"It was inspiring for the SLC contingent to see the innovative work that is being done at other campuses, in recycling, energy efficiency, green building, and general environmental awareness," recalls economics professor Marilyn Power, who was among that contingent as well as a member of the conference's planning committee. "We have a motivated group of students, faculty, and staff here at Sarah Lawrence, and I am sure we will make a significant impact on campus. We invite all interested members of the SLC community to join in."
Audience members were asked to view the current environmental crisis as a "crisis of the mind" that cannot be ameliorated without a serious reconsideration of priorities. Speakers, including David Orr, chair of the Environmental Studies Program at Oberlin College, stressed that institutions of higher education have the potential to be influential, not only by supporting renewable energy and other green technology but also by providing students with a comprehensive understanding of dynamic environmental systems.
Recycling, energy use, purchasing, green buildings, student activism, and curriculum development were among the topics discussed. The Sarah Lawrence team met shortly after the conference to begin work on a comprehensive long-term plan for the campus, which will include the formation of a campus-wide sustainability committee. Power will serve as interim chair of the planning committee.