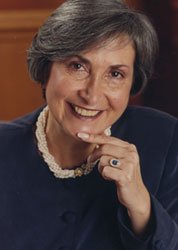 President Jacques Chirac of France has appointed Sarah Lawrence College President Michele Tolela Myers to the order of the Légion d'Honneur for outstanding achievement. To be so recognized is the highest honor an individual can receive from the French government. The Légion d'Honneur was created by Napoléon Bonaparte in 1802 and has honored citizens of France and other countries since 1804. The decoration has been bestowed upon military personnel and civilians including presidents, ambassadors, artists, authors and educators. The honor has been awarded to Dr. Myers for her services to education in the United States.
Dr. Myers, who holds dual French-U.S. citizenship, was born in Morocco and raised in France. She earned a diplôme in political science and economics from the Institute of Political Studies at the University of Paris, a master's degree and Ph.D. degree in communication studies from the University of Denver, and a master's degree in clinical psychology from Trinity University in Texas. She taught sociology and communication, with an emphasis on organizational behavior, managerial communication and negotiations, and has been a consultant on these issues for education, business, professional and healthcare organizations. She is co-author, with Gail E. Myers, of four books on communications: The Dynamics of Human Communication: A Laboratory Approach; Managing by Communication: an Organizational Approach; Communicating When We Speak; and Communication for the Urban Professional.
President of Sarah Lawrence College since 1998, Dr. Myers previously served as president of Denison University for ten years and dean of the undergraduate college at Bryn Mawr College. She is currently a member of the Board of Directors of JSTOR, ARTstor and the Sherman Fairchild Foundation. Among the numerous positions she has held, she served as chairman of the American Council on Education from 1997-98. Dr. Myers will retire at the end of July, 2007.