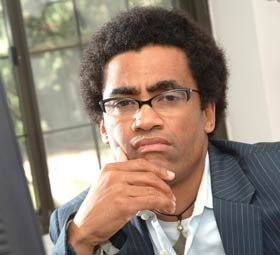 Thomas Sayers Ellis, a Sarah Lawrence College writing faculty member was presented with the sixteenth annual John C. Zacharis First Book Award for his 2005 collection of poems, The Maverick Room (Graywolf) by the esteemed literary journal, Ploughshares. The prize is awarded for the best debut work by a contributing poet or fiction writer.
"In The Maverick Room, Thomas Sayers Ellis jostles sound and sense and comes up with a new and winning combination of both. These poems sing and whisper, shout and confide, in the same unmistakable voice. Lyric and narrative strains fuse in poem after poem, making the collection as far reaching as it is profound," said John Skoyles, this year's judge, and writing professor at Emerson College, the publisher of Ploughshares, in the journal's Winter 2006-07 issue.
Thomas Sayers Ellis's recent publications include Poetry, Tin House, Legitimate Dangers: American Poets of the New Century, Zoland Poetry, and Under the Rock Umbrella: Contemporary Poets from 1951-1977. He has received a Whiting Writer's Award and fellowships from the Fine Arts Work Center in Provincetown, the MacDowell Colony, Yaddo, and the Bread Loaf Writers' Conference. He has published two chapbooks, The Good Junk in 1996, which was included in the Agni/Graywolf series Take Three, and The Genuine Negro Hero in 2001, from Kent State University, and a chaplet, Song On, in 2005 from WinteRed Press. He has also co-edited the anthology On the Verge: Emerging Poets and Artists (Faber&Faber) and edited the forthcoming Quotes Community: Notes for Black Poets (Michigan).
Ellis was born and raised in Washington D.C. From there he attended Harvard University, where he concentrated on cinema and literature, studying with Seamus Heaney and serving as a teaching assistant for Spike Lee. While living in Cambridge, he co-founded The Dark Room Collective, a network of African-American poets that included Sharon Strange, Kevin Young, Natasha Trethewey, John Keene, Tracy K. Smith, and Major Jackson. Famous for lively, standing-room-only readings, which mixed emerging writers with established poets, The Dark Room Collective was the sole reading series in the Boston area devoted to writers of color. After Cambridge, Ellis went to Brown University, where he received an M.F.A. in 1995.
Ellis joined the poetry faculty at Sarah Lawrence College in the fall of 2006 and lives in New York City., He also teaches in Lesley University's low-residency M.F.A. program. He is working towards completion of his next work, Colored Only: Identity Repair Poems.