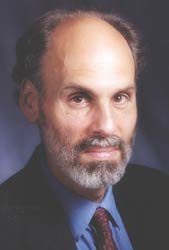 Alan Edward Guttmacher, M.D.
"Family History: The Key that Opens the Genome Era"
Lecture
Wednesday, December 13
Heimbold Auditorium
12:30 p.m.
Dr. Alan Edward Guttmacher, deputy director of the National Human Genome Research Institute (NHGRI) and  senior clinical advisor to the director of the Human Genome Project, will present a lecture on how we can use our families' health histories to promote personal health and prevent disease. Presented by the Joan H. Marks Graduate Program in Human Genetics, the lecture "Family History: The Key that Opens the Genome Era" will take place on December 13 at 12:30 pm. in the Heimbold auditorium. For more information about the lecture, which is free and open to the public, please call 914-395-2371 or e-mail clieber@slc.edu.
"Having Dr. Guttmacher here is very significant," said Caroline Lieber, director of the Joan H.Marks Graduate Program in Human Genetics at Sarah Lawrence, the first of its kind in the nation. "The implications of genetic information for the public are enormous." Regardless of how much information people have when they come to the lecture, she expects that the audience will leave the talk understanding more about how genetics impacts their lives.
Dr. Guttmacher, a Baltimore native, has been involved with genetic policy since 1999 and is a leading expert on integrating genomics into medical practice. He is an educator who oversees the NHGRI's exploration of the ethical, legal, and social implications of human genomics. Dr. Guttmacher also serves as the Director of the Office of Policy, Communications, and Education at the NHGRI where he directs the institute's health affairs, public policy, communications, community outreach and public education functions. He has helped guide the National Coalition for Health Professional Education in Genetics, and co-edited a series about the application of advances in genomics in medical care for The New England Journal of Medicine titled Genomic Medicine. He is a graduate of Harvard Medical School.