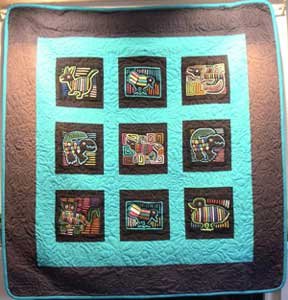 Sara Fasy
"Quilt Stories"
Exhibit
Monday, November 27 through Friday, January 12
The Gallery at the Esther Raushenbush Library
Sarah Lawrence College MFA candidate in nonfiction writing Sara Fasy presents her textile art at the Esther Raushenbush Library exhibit gallery at Sarah Lawrence College. "Quilt Stories" exhibits embroidered, patchwork, and mola quilts made in Mexico, her home for 28 years. The exhibit runs from November 27 through January 12 and is open to the public during regular library hours. For more information, please call 914-395-2470.
The two hundred or so quilts that Sara Fasy produced since 1987 have found homes all over the world, where she hopes "they provide a bit of beauty or comfort in the unfolding of someone else's stories." "These quilts," she said, "are not 'story quilts' in their design, but rather, related to the stories of my life in Mexico. Each quilt triggers memories: of 100 degree days on trips to Texas, scouring the fabric stores with small children underfoot; of a 40th birthday trip to Paris; reveling in a whole day of searching for gingham in Sain Germain; of trips to Mexico City, staying at the Monte Carlo Hotel, and dragging 15 meters of bundled huata (batting) back on the bus. Making quilts saved my sanity in difficult years. Quilts shaped the routines of my life, and quilts drew me deeply into my community and helped erase the hard lines of them and us."
According to Fasy, surviving a near fatal illness in 1987 and being in Mexico where constant exposure to folk art and crafts – artesania – inspired her to make something both beautiful and functional. She said, "Stacks of unfinished life drawings had languished in my studio. I wanted to make something I was driven to finish. Working with fabric and embroidery appealed to my latent practical side. My children were aged two and three at the time, so a craft venture seemed like a good way to stay at home with them and still carve out a creative structure for myself. It was something that they could be a part of too."
Sara Fasy is a second year MFA candidate in nonfiction writing at Sarah Lawrence College. She was educated at Gonzaga University and Instituto Allende, San Miguel de Allende, Mexico, where she received a BFA in Printmaking in 1979. Subsequently, she taught life drawing at Bellas Artes. She has exhibited quilts in both individual and group shows (as a member of Surface Designers) at Bellas Artes, Instituto Allende, and Galeria Cuatro Vientos, among other venues in Mexico. Her daughter Marianne (Mimi) Contreras is metals artist in Philadelphia and her son Richard Contreras is a 2006 Sarah Lawrence graduate. She currently lives in Manhattan.