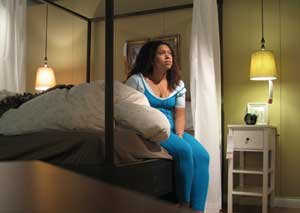 Abbey Williams: Present Company Excluded
November 14th, 2006 through January 5th, 2007
Barbara Walters Gallery
Hours: M – F 9 a.m. to 5 p.m. S/S 10 a.m. to 4 p.m.
Opening Reception: Tuesday, November 14th, 6 - 8 p.m.
Artist Lecture: Tuesday, November 28th, 1:30 p.m.
Sarah Lawrence College is pleased to announce Present Company Excluded, a solo exhibition of new video work by Abbey Williams. On view at the Heimbold Visual Art Center's Barbara Walters Gallery, it is free and open to the Public. For more information please call (914) 395-2355 or cstayrook@slc.edu.
Abbey Williams' exhibition is a part of ongoing emerging artists series held during the 2006-2007 academic year. Members of the College's visual arts and visual culture faculty, in conjunction with their students, select each artist in the series.
In past video works, Williams has addressed issues of desire, consumption, and loss. Glen Minnisto of the Detroit Review writes about her work YES (2002): "YES understands the process of making meaning through the delicate romancing and finessing of its own system of signs. It's an exhilarating act of articulation that delivers the whole package: music, visual rhythm, social landscape, urban profile, a narrative of sexual confession, and a tour-de-force lesson in colonial consumer voyeurism." She herself appears in much of her work, often alone, even when others are present.
Present Company Excluded (2006) grapples with the physicality, emotions and aesthetics of (in)visibility. Continuing to use music as a main character we see Williams singing Joni Mitchell songs in a variety of different scenarios. She is alone in the woods singing loudly for anyone to hear; then sitting on a meticulously rumpled canopy bed in what looks like a bedroom, possibly hers. In fact, it's an Ikea showroom; shoppers are sometimes visible, staring at Williams out of the corners of their eyes as she goes on singing, impervious to their confused glances. We follow her to parties where everyone is chatting animatedly and dancing but seemingly ignoring Williams, even as she sets a fire on the dining table. And when she is behind the camera she is documenting what looks like various homes, devoid of their inhabitants. Quietly filming pieces of someone else's life is simultaneously obtrusive and endearing and in all these endeavors we feel the artist trying to forge a connection with the unseen.
With deft editing and using multiple-screen projection to full effect, Williams washes the viewer in image, song and sound, while wittily provoking and challenging. Present Company Excluded elucidates the conflicting myriad of emotions surrounding group participation and how the significance (or lack there of) of a singular moment is within the eye of the beholder.
Abbey Williams received her MFA from Bard College in 2004 and attended the Skowhegan School of Painting and Sculpture that same year. Her work has been widely exhibited; most notably at Tate Britain in London, the Renia Sophia Museum in Madrid, The National Gallery of Victoria in Melbourne and at PS1/MOMA as a part of the Greater New York exhibition.