Recent Articles about president-elect Lawrence
---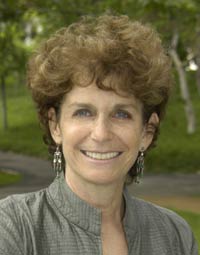 The Board of Trustees of Sarah Lawrence College has announced the appointment of Dr. Karen Lawrence as the College's tenth president. She will succeed Dr. Michele Tolela Myers, who will retire after a successful nine-year presidency, on August 1, 2007.
Dr. Lawrence has a record of innovative, creative and collaborative leadership at the School of Humanities at the University of California, Irvine, where she has served as dean since 1998. In this capacity she leads curriculum, recruitment, fundraising, budget and physical plant activities for a school of 2,200 undergraduates, 450 graduate students, 180 faculty and 100 staff members. The School of Humanities, noted for its commitment to undergraduate teaching, also boasts numerous master's and Ph.D. programs ranked among the best in the nation.
"In her current position at UC Irvine, Dr. Lawrence has been a champion of the liberal arts, pioneering the establishment of interdisciplinary programs among the humanities, the arts and the sciences," said Robert Riggs, chair of Sarah Lawrence College's Board of Trustees. "We know that as our next president, she will be an effective and articulate ambassador for Sarah Lawrence College."
An energetic fundraiser, Dr. Lawrence established a number of faculty chairs and led the conception, funding and implementation of two major UC Irvine centers: the International Center for Writing and Translation, and the Dr. Samuel M. Jordan Center for Persian Studies and Culture. Dr. Lawrence has championed diversity in faculty hiring and humanities outreach programs to underserved areas.
"I am deeply honored to be named the next president of Sarah Lawrence College," Dr. Lawrence said. "I look forward to supporting and enhancing the intellectual liveliness and social responsibility that characterize this unique place."
A widely respected English literature scholar and teacher, Dr. Lawrence has a special interest in James Joyce, travel writing and feminist theory. She has held leadership positions in national and international professional organizations, including presidencies of the International James Joyce Foundation and the Society for the Study of Narrative Literature. She has written or edited five books on literature and has published widely in leading academic journals.
Dr. Lawrence attended Smith College from 1967 to 1969, and received her B.A. degree in English, magna cum laude, from Yale University in 1971, among the first women to graduate from there after Yale became coeducational. She earned her master's degree in English from Tufts University the following year, and her Ph.D. in English, with distinction, from Columbia University in 1978.
A member of the English faculty at the University of Utah from 1978 to 1997, Dr. Lawrence served as chair of the department from 1984 to 1989. Since 1998 she has been professor of English and comparative literature as well as serving as dean of the School of Humanities at UC Irvine. Throughout her career, Dr. Lawrence has received numerous awards and professional accolades, including a John Simon Guggenheim Foundation Fellowship, the Ramona Cannon Award for distinguished teaching in the humanities, and the University of Utah's prestigious Rosenblatt Prize for Excellence in Research, Teaching and Service.
Dr. Lawrence is married to Peter F. Lawrence, M.D., professor of surgery, chief of vascular surgery and director of the Gonda (Goldschmied) Vascular Center, and Bergman professor of vascular research at the David Geffen School of Medicine at UCLA. The Lawrences, who plan to live on campus in the President's House, have two children: Andy, an alumnus of Dartmouth College, and Jeff, a senior at Amherst College.