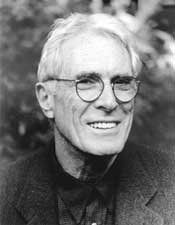 Mark Strand
Reading
Wednesday, November 15, 2006
Reisinger Concert Hall
6:30 p.m.
Former United States Poet Laureate and Pulitzer Prize-winning poet Mark Strand will read selections from his work on November 15th at Sarah Lawrence College. The reading will take place in the Performing Arts Center's Reisinger Concert Hall at 6:30 p.m.. For more information, please call 914-395-2412.
Man and Camel, published in September 2006 by Alfred A. Knopf., is Mark Strand's newest collection of poems. He is, said Vijay Seshadri, a member of the writing faculty, "one of the dominant literary figures of his era. His presence represents the commitment of the Sarah Lawrence's graduate writing program's reading series to bringing writers to the college who are both renowned figures and unfailingly interesting in their response to reality."
Mark Strand, former United States Poet Laureate was born on Canada's Prince Edward Island in 1954 and was raised and educated in the United Sates and South America. He is the author of ten books of poems, including Blizzard of One (Alfred A. Knopf, 2000), which won the Pulitzer Prize; Dark Harbor (1993); The Continuous Life (1990); Selected Poems (1980); The Story of Our Lives (1973); and Reasons for Moving (1968). In addition to his poetry, Strand is also an editor, essayist, author of children's books and translator. His honors include the Bolligen Prize, three grants from the National Endowment for the Arts, the Edgar Allen Poe Prize, and a Rockefeller Foundation Award, as well as fellowships from the Academy of American Poets, the MacArthur Foundation and the Ingram Merrill Foundation. He currently teaches in the Committee on Social Thought at the University of Chicago.
The readings are partially funded by gifts from the Linda Ashear Visiting Poets Fund and the Elaine Oakley Behr Visiting Writers Fund.