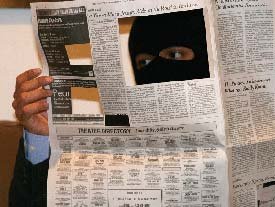 José Ruiz "Documentos", pre-performance video and photography
October 10 to November 3, 2006
Barbara Walters Gallery
Hours: M – F 9 a.m. to 5 p.m. S/S 10 a.m. to 4 p.m.
Opening Reception: Tuesday, October 10th, 6:00 - 8:00p.m.
Sarah Lawrence College is pleased to announce a solo exhibition entitled "Documentos" featuring pre-performance video and photography by José Ruiz in the Heimbold Visual Arts Center's Barbara Walters Gallery. The exhibit is free and open to the public. For more information please call (914) 395 2355 or cstayrook@slc.edu.
The exhibit of José Ruiz's work is part of a series of emerging artists exhibited during the 2006-2007 academic year. Each artist in the series was chosen by members of the College's visual arts and visual culture faculty in conjunction with their students.
José Ruiz works under an umbrella of culture, subculture, and social politics. He often uses himself in his work as a catalyst for creating conceptual pieces about issues of racial identity and American classism. An example of this is "Playing the Field", where Ruiz incorporates a popular American rock song as a soundtrack to a Mexican laborer (played by Ruiz) mowing a field of grass in the shape of an American flag. In a sense, Ruiz is making his individual mark at the same time that the society he's creating within erases it. This act of "canceling out" is seen again in the video, "Ghost Signatures and Minimalist Graffiti" and features two graffiti artists on separate video screens. On the left side, the artist creates an original tag in black spray paint on a clean white wall. On the right side, another artist (Ruiz) "erases" the graffiti with white spray paint. Michael O'Sullivan of the Washington Post says of Ruiz, "For every action, the artist seems to be saying with these pieces, there is an equal and opposite reaction; for every interpretation, a perfectly valid reinterpretation. It creates a kind of perpetual stasis from which there is no exit."
José Ruiz is an artist and curator currently working out of New York City. Ruiz was born in Lima, Peru in 1975. He received a Bachelor of Arts degree from the University of Maryland with a major in Painting along with a minor in Latin American Studies. In 2000, he co-founded an artist & curatorial collective in Washington, DC named Decatur Blue. Ruiz received a Master of Fine Arts degree from the San Francisco Art Institute's New Genres Department in 2004. Recently, he has served as a visiting artist at Napa Valley College and Whittier College and an Alumni Representative for the San Francisco Art Institute. He has won numerous awards such as the Workspace Program Residency in Queens, NY, the Trawick Prize's Young Artist Award, a Visual Artist Fellowship from the DC Commission on the Arts and a Merit Fellowship from the San Francisco Art Institute. His work is represented by G Fine Art in Washington, DC and Steven Wolf Fine Arts in San Francisco, CA.