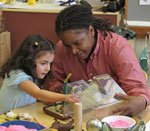 Members of the faculty of Sarah Lawrence College's Child Development Institute (CDI) are featured in a new documentary, Values Go to School, to be broadcast over public television stations in the coming months. The program is the third in the Learning Child Series produced by Jonathan Diamond Associates in association with the Child Development Institute. The first two programs are When a Child Pretends about understanding the value of pretend play for preschool children and From Pictures to Words about understanding the foundations of literacy learning.
Values Go to School is a half-hour documentary that explores ethics with children. It profiles educators who have incorporated "values" into their curriculums and addresses humanistic concepts such as cultural understanding, ethnic identity, friendship, non-violent conflict resolution and self-respect.
Dr. Margery Franklin, Child Development Institute director, Sara Wilford, director of Sarah Lawrence College's Art of Teaching graduate program and Dr. Jan Drucker, psychology faculty member and director of CDI's Empowering Teachers Program provide professional observations of the classroom practices depicted in the program as well as explanations of the theoretic background.(Drs. Franklin and Drucker and Ms. Wilford are available for interviews.)
Reviewing Values Go to School for Horace: The Journal of the Coalition of Essential Schools, Jill Davidson wrote: "Families, educators, and students can use Values Go to School to spark conversations about why it's important to talk about values at school and how to do it. In Values go to School, students' lives serve as content; respect for students and their experience is immediately clear."
Producer Jonathan Diamond and his crew visited four suburban and urban schools, with students ranging in age from five to 19, to document how values emerge and take shape in supportive educational environments. Teachers, administrators and the CDI faculty underscore the need for values awareness and education in helping children make positive, ethical choices in becoming caring, curious and confident people. The program explores how values such as caring, sharing, tolerance, compassion, independence and responsibility can be absorbed through classroom life with the guidance of caring adults.
Filmed in four schools, urban and suburban, from kindergarten to high school, Values Go to School explores different age-appropriate approaches to values education. It begins as two kindergarten students argue over a game of tic-tac-toe. Their teacher uses the dispute as the basis for a values lesson, which includes a one-on-one with a five-year-old boy about decision-making, a full class discussion and a peaceful resolution, as the tic-tac-toe warrior admits, "I don't want to fight anymore." In the end, both children discover how constructive dialogue can address a conflict better than angry outbursts.
In a first grade classroom, students discuss the "values" behind their friendships. Later, the program observes the classroom activities of students in an urban middle school and high school where poverty and violence complicate the learning process. Teachers help these students in ways that might traditionally fall solely to the parent. In one class, a teacher discusses the values of "independence" and "responsibility" as part of the growing-up process. In these settings with older children, the program documents how values education proceeds more often by example, as an intrinsic part of classroom life, rather than through planned discussion and projects.
Connecting classroom life to family life, the program explores the partnership between families and educators in teaching ethical behavior. In visits to homes in several communities, the program encounters parents who welcome the school's holistic approach as complementary to their own. The mother of one first-grader explains: "It's the parents and teachers working together who create the 'whole child.'"
About The Learning Child Series
The Learning Child Series was created to assist parents and educators in guiding children to become motivated and thoughtful learners. The series is about nurturing the whole child — attending to cognitive development in the context of a child's social and emotional growth, recognizing that every child's needs are different. Produced by Jonathan Diamond Associates and guided by the Child Development Institute at Sarah Lawrence College, its programs offer educational approaches that can help children become motivated and questioning students, engaged by the discoveries that are a part of learning. These programs promote such "habits of mind" as personal curiosity, problem-solving, hypothetical thinking and the ability to understand differing points of view. Finally, the series is premised upon about a partnership between parents and educators in contributing to a child's lifelong development as a "genuine learner." Promoting that partnership and helping children become active, confident learners is at the center of The Learning Child Series.
Jonathan Diamond is the executive producer-director of Values Go to School, and its companion documentaries, From Pictures to Words (hosted by Dawn Upshaw) and When a Child Pretends (narrated by Joanne Woodward), both of which are distributed by American Public Television. His producer-director credits include the award-winning Animal Planet series Wildlife Emergency, the ESPN documentary series Women Who Won Gold, the primetime Discovery Health Channel series Beating the Odds and the public television program Women Going Global. As president and founder of the independent television production company Jonathan Diamond Associates, Diamond has been committed to producing video and television programs in the public interest on such topics as education, health and the environment for broadcast, cable and home video distribution.
The Child Development Institute was established in 1987 to develop programs for early childhood and elementary school teachers, administrators, child development professionals, parents and the community at large. Through the Empowering Teachers Program, The Learning Child Series, conferences, lectures, and occasional papers, CDI provides a progressive perspective on child development and education. The CDI faculty believes that the child's educational experience should encompass social, emotional, and imaginative aspects of life in concert with intellectual development and that schools and other institutions be developed as communities that attend to the interests and needs of children from diverse backgrounds. The activities of the Child Development Institute, while developed primarily as outreach programs, enhance the educational experience of undergraduate and graduate students at the College.