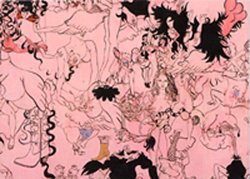 Ginna Triplett, Painting
February 28th through April 4th
Barbara Walters Gallery
Hours: M – F, 9 a.m. to 5 p.m.; S/S, 10 a.m. to 4 p.m.
Opening Reception: Tuesday, February 28th, 5:00 - 8:00p.m.
Sarah Lawrence College is pleased to announce a solo exhibition of drawings and paintings by Ginna Triplett in the Heimbold Visual Arts Center's Barbara Walters Gallery. The exhibit is free and open to the public. For more information please call (914) 395 2355 or cstayrook@slc.edu.
The exhibit of Triplett's work is part of a series of emerging artists exhibited during the 2005-2006 academic year. Each artist in the series was chosen by members of the College's visual arts and visual culture faculty, in conjunction with their students. Larry Brown of the painting faculty invited Triplett to exhibit at Sarah Lawrence.
Triplett's paintings are the result of mutating Disney characters and pin-up models into complex, often humorous, sexual fantasies. Leah Oates of NY ARTS writes. "Her work is skillfully executed, a virulent, energetic painting. The style is as playful as her imagery. Triplett has appropriated emotionally flat pornographic imagery and has somehow infused her work with joyousness."
In talking about her work, Triplett states, "My work allows me to view and examine what is going on in my psyche. I am surprised, amused, and exposed by the combinations and mutations of images that appear in my paintings and drawings. Maternity, sexuality, ambition, nurturing, frustration and inspiration bounce around, collide, and blend together in my daily life and in my work. I want to provoke the viewer to contemplate, laugh at, and maybe relate to the jumble, the mutations and the collisions."
Ginna Triplett was born in Oak Park Illinois and lives and works in Brooklyn NY. She holds a B.F.A. from the Cooper Union School of Art. Her work has been exhibited extensively around New York as well as in San Francisco and Los Angeles.
Sarah Lawrence is a liberal arts college for men and women, founded in 1926, with a distinctive system of education. It is known for having one of the lowest student/faculty ratios in the country. At the core of the system are small classes, regular one-on-one student-faculty conferences, cross-disciplinary approaches and the integration of the creative arts within the curriculum.