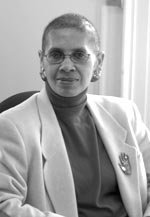 An anonymous donor has made a gift of $1,000,000 to Sarah Lawrence College to establish an endowed fund for two scholarships in the Art of Teaching Program in honor of, and to be named for, sociology professor and Associate Dean of Studies Regina Arnold.
Beginning in September 2006, the College will offer two students full scholarships to the two year program, and will do so every year "so that there will always be Regina Arnold Scholars in the Art of Teaching Program at Sarah Lawrence," said the representative for the donor.
Arnold has been a highly respected teacher at the College, which has a decades-long legacy of fine professors and values teaching as the primary attribute of the rigorous liberal arts college. "I was so touched by this demonstration of generosity, and I am thrilled that Regina has been identified as the inspiration for this gift," said Sarah Lawrence president Michele Myers.
In her letter to Arnold informing her of the honor, Myers said: "You have made such a difference in the lives of so many at the College. This is a wonderful tribute in recognition of your dedication and commitment as a teacher and mentor to your students."
Regina Arnold taught sociology at Sarah Lawrence for 21 years before becoming the acting Dean of Student Affairs in 2000. She was appointed Associate Dean of Studies in 2001. A staunch advocate of experiential learning interconnected with classroom learning and independent study, Dr. Arnold inspired and advanced the College's community partnerships for student work, service learning and student activism.
The egalitarian principles Dr. Arnold has imparted to the SLC community, noted specifically by the donor in creating the scholarships in her honor, reflect the philosophy and aspirations of the College: a belief in the dignity of people, a passion for teaching and learning, and a drive to help make the world a better place.