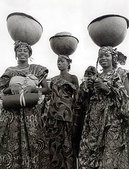 Events in January will include a focus on African-American history. An exhibit of photographs of women in continental Africa and Africans in the diaspora in the gallery of the Esther Raushenbush Library begins on January 15. On Wednesday, January 18, a staged documentary "Voices: Those Who Wore the Shoe," based on slave narratives culled from 1934-1941 Federal Writer's Project interviews will be presented; a talk entitled Alterity: The African Griotte will be given by Dr. Fayemi, a practicing pathologist, in conjunction with the exhibit of his photographs on January 24 from 2–4 p.m. in the library's pillow room; and on Monday, January 30, a panel will explore Black-Jewish Relations in America.
"Windows to the Soul: Photographs Celebrating African Women" showcases the work of A. Olusegun Fayemi, who has spent the last 22 years concentrating his energies on social documentary photography. The exhibit runs from January 15 through March 31. For hours please call (914) 395-2470.
"Voices: Those Who Wore the Shoe" is a multimedia production by Harlin C. Kearsley based on actual slave narratives. Actors speak directly to the audience, stepping in and out of a number of diverse characters, creating an intimacy that helps put the audience in the moment, taking them on a journey with those who actually experienced the horrific reality of being physically owned by another human being. "Voices: Those Who Wore the Shoe" has been acclaimed by National Public Radio as "an essential teaching tool on the bitter lessons of slavery." For more information, including the time for this presentation taking place on January 18, please call (914) 395-2412.
Religion faculty member Glenn Dynner has drawn together a panel to explore issues of Black-Jewish Relations in America. Looking back at years of cooperation during the Civil Rights era, as well as various artistic affinities and collaborations, the panel will also discuss tensions between the two groups, specifically examining the highly publicized incident that occurred in Crown Heights, Brooklyn, in recent years. One of the panelists, the Rev. Herbert Daughtry, was a central figure in that episode. The discussion will take place on Monday, January 30, at 7 p.m. in Reisinger Concert Hall. Please call (914) 395-2412 for additional information.