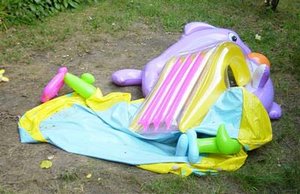 John Drury, Floodline
November 22, 2005 through January 18, 2006
Barbara Walters Gallery
Hours: M – F 9 a.m. to 5 p.m. S/S 10 a.m. to 4 p.m.
Opening Reception: Tuesday, November 29th 5 to 8 p.m.
Artist Lecture: Thursday, December 8th 6 to 8 p.m.
Sarah Lawrence College is pleased to announce a solo exhibition of sculpture and installation by John Drury entitled "Floodline" in the Heimbold Visual Arts Center's Barbara Walters Gallery. The exhibit is free and open to the public. For more information please call (914) 395-2355 or cstayrook@slc.edu.
The exhibit of Drury's work is part of a series of emerging artists to be exhibited during the 2005-2006 academic year. Each artist in the series was chosen by members of the College's visual arts and visual culture faculty, in conjunction with their students.
The artist and critic Walter Robinson describes John Drury for the Internet art magazine Artnet as, "…the Lower East Side folk avant-gardist." Intuition, knowledge and humor fuel discourse on American holidays, art history and personal biography. A rainbow of often recycled and common materials serves Mr. Drury's non-hierarchical need for mixed-media. Technique and chance are evident and their characteristics inform final presentation. Process is evident."
The critic John Perreault wrote in reference to an exhibition for Glass magazine, "Drury has a storyteller's gift for combining unlikely objects as though they were a string of events in a daydream. He is a mixed-media sculptor / provocateur. Drury, to my mind, is a true poet of the material world. He is a trickster rather than a prankster; an urban shaman". Victoria Pedersen describes Drury in another published review of the same exhibition for Paper magazine, "Drury invests everyday objects with a new vitality that is born out of his quirky melding of materials…" Ms. Pedersen continues, "His fascination with materials and process has all the openness of child's play; with almost manic abandon, Drury gleefully pairs together the most unlikely elements".
Mr. Drury was awarded the Pernod Liquid Art Award and was included in the first New York Biennial of Glass at UrbanGlass, in 1994. Mr. Drury then had a solo exhibition: Studies in Salvation; Purgatory at UrbanGlass's Robert Lehman Gallery, in 1995. In 1997, John Drury was awarded a Louis Comfort Tiffany Award for the Visual Arts and was included in the Corning Museum of Glass New Glass Review 18.
John Drury works and lives with his wife and two children in New York City. John earned his BFA from the Columbus College of Art and Design in 1983 (where he began work with glass in 1982) and a Master of Fine Arts degree in sculpture (emphasis on glass) including a minor in painting, from the Ohio State University, in 1985. John is a founding trustee of Glass Axis (1987), a nonprofit, public access glass studio located in Columbus, Ohio. Drury has exhibited internationally (Velan, per l'arte contemporanea; Italy: La Panaderia; Mexico City) and at Exit Art, Holly Solomon, Bronwyn Keenan and the Willoughby Sharp galleries in New York City.
Special thanks to Robin Winters and the Sculpture department for inviting John Drury to Sarah Lawrence as part of the Emerging Artists Showcase.