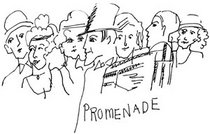 A cast of 24 Sarah Lawrence students will perform in a staging of Promenade, produced by the College's Theatre Program. The musical will run on December 8, 9, and 10 at 7:30 p.m. in the Suzanne Werner Wright Theatre. Each performance is free and open to the public but seating is limited. For more information and reservations please call 914-395-2411.
Under the direction of Sarah Lawrence Theatre faculty member Shirley Kaplan with musical director Nehemiah Luckett, Promenade, while not meant to be a literal or linear story, follows the journey of two escaped convicts taking a personal look at society. The two men, on the run and eluding capture by their jailer, happen upon a group of self-absorbed socialites and observe the four couples as they trade lovers and mistreat their hired help. After befriending one of the servants, the convicts are eventually discovered by their jailer and locked up.
The quality of this show is like that of "a mural that shows ideas of war, bureaucracies, aristocrats, and a festive adventure that still seems contemporary," said Kaplan.
An Obie Award winning musical, Promenade debuted in 1969 as the first tenant of the Promenade Theater, named for the musical. The music of Promenade was written by the Reverend Al Camines with the book and lyrics by Maria Irene Fornes, a native of Cuba who emigrated to the U.S. in the 1940s and pursued a career in painting before becoming a successful playwright. The musical emerged from New York's Judson Memorial Church on Washington Square to become one of the most highly acclaimed musicals of its debut season.