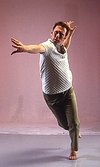 Award-winning choreographer Neil Greenberg is developing a new composition this fall with the assistance of dance students at Sarah Lawrence College. Greenberg is the Viola Farber Artist-in-Residence at the liberal arts college known for its conservatory-level performing arts programs. His semester at Sarah Lawrence is co-sponsored by the National Endowment for the Arts through the National College Choreography Initiative.
Greenberg will explain the process he is using to create his new work at an open meeting of dance students and faculty on November 14 at 3:45 in the Bessie Schoenberg Dance Theatre. Performances of the dance will be held December 2 and 3 in the same location. Both the presentation and the performances are free and open to the public. For more information please call 914-395-2344.
In his presentation on November 14, Greenberg will describe the method he is using to create the work, which includes the utilization of video technology to record his own movement improvisations as a way to translate his ideas to the student performers.

Greenberg is a recipient of a John Simon Guggenheim Memorial Foundation Fellowship and a New York Dance and Performance (or "Bessie") Award (named for Bessie Schoenberg, the legendary dance teacher who directed the Sarah Lawrence dance program for decades). He has been creating dances since 1979, including over twenty works for his company, as well as commissions for Mikhail Baryshnikov's White Oak Dance Project and Ricochet Dance Company of London. He has served as artist-in-residence at the University of Minnesota, George Washington University, Teatro alla Scala in Milan, and Greenwich Dance Agency in London.