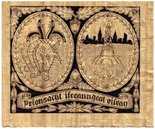 Sarah Lawrence College is pleased to announce a solo exhibition by P. Duke Riley in the Heimbold Visual Arts Center's Barbara Walters Gallery. Riley will exhibit a series of drawings and sculpture from October 18-November 18. The exhibit is free and open to the public. Gallery hours are Monday through Friday, 9 a.m. to 5 p.m., and Saturday and Sunday, 10 a.m. to 4 p.m. An opening reception will be held on Tuesday, October 18th from 5 - 8 p.m. For more information, please call (914) 395-2355 or e-mail cstayrook@slc.edu.
The exhibit of Riley's work is the second in a series of six shows by young, emerging artists to be exhibited during the 2005-2006 academic year, each chosen by members of the College's visual arts and visual culture faculty, in conjunction with their students.
P. Duke Riley is an artist whose work recuperates practices most closely associated with 19th century nautical life—scrimshaw, intarsia, tattoo—while interrogating notions of territory and nomadism, possession and dispossession, the natural and the artificial. This expansion of the practice of drawing is resolutely low-tech, handmade, compulsive, and the resulting images require the kind of detailed looking that allows a viewer to step outside our hyper accelerated world for a moment, to consider it as a kind of terra nova. What does this explorer find? The specific works on display in the Barbara Walters Gallery are part of a much larger and ongoing project exploring the coastal lines of New York's East River, claiming its forgotten spaces for settlers and pirates very different from the Pilgrim Fathers; these are the inheritors of those who vanished from Roanoke, "gone to Croatan." "Riley's work is at the forefront of a contemporary revitalization of drawing practices," says Judith Rodenbeck, who teaches in the Division of Visual Culture at Sarah Lawrence College.
P. Duke Riley was born on the Massachusetts shore, in Boston, 32 years ago. He attended the Rhode Island School of Design and is currently completing his MFA at Pratt Institute. His work has been seen in numerous group shows in New York. Most recently he collaborated with colleagues from Belfast, forming the group OAR, on a transatlantic book project that was part of What Comes After: Cities, Art and Recovery presented this fall by the Lower Manhattan Cultural Council; this work will be traveling to Los Angeles and Washington next year. Riley is program director for Oyster Arts, an arts service organization working locally with domestic shelters; he is also the owner of Cherry Bomb Tattoo in Greenpoint, Brooklyn.
Special thanks to Judith Rodenbeck and the Art History department for inviting Duke Riley to Sarah Lawrence as part of the Emerging Artists Showcase.
Sarah Lawrence is a liberal arts college for men and women, founded in 1926, with a distinctive system of education. It is known for having one of the lowest student/faculty ratios in the country. At the core of the system are small classes, regular one-on-one student-faculty conferences, cross-disciplinary approaches and the integration of the creative arts within the curriculum.