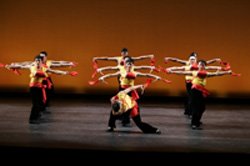 Sarah Lawrence College and The Untermyer Performing Arts Council (UPAC) will present a performance of the Chinese Dance Company of New York on Saturday, August 6th at 7:30 pm in the College's Reisinger Concert Hall. The performance is free of charge and open to the public. Seating is limited.
Founded in 1973, the Manhattan-based Chinese Dance Company of New York is in residence at the Chinese Cultural Center in New York's Chinatown. Led by Artistic Director Mr. Qi Jiang, the company performs each year at over 500 events and reaches an audience of over 180,000 people with its repertoire of traditional and contemporary folk and classical dances.
The Company's dancers and musicians include internationally recognized artists from performance stages and academies throughout mainland China, Taiwan and the United States, who present their work in Chinese dance and Peking Opera styles.
The performance, a UPAC on the Road presentation, is part of this summer's theme "Around the World in 90 Days." It is the Council's second collaboration with Sarah Lawrence College.
For further information, call the UPAC Arts Line at (914) 375-3435 or visit UPAC's Web site.