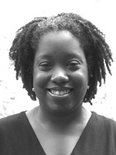 On July 18th, Sarah Lawrence College welcomed Natalie Gross as the newest member of its Student Affairs staff to serve as the College's first Director of Diversity and Campus Engagement.
"Our purpose in establishing the position is to engage the college community in broader discussions about diversity and inclusion," said Allen Green, the College's Dean of Studies. "We look forward to Natalie's leadership in advancing these important conversations."
As Director of Diversity and Campus Engagement, Gross will advise student identity organizations, organize and facilitate dialogue groups around issues of race, ethnicity and exclusion, establish a peer mentor program for students of color, and be available to students to provide support in dealing with issues related to prejudice on campus.
"I am excited to be here and even more so about the new position," Gross said. "I am looking forward to working with students, faculty, and staff to provide solid educational programs regarding diversity."
Gross most recently held the position of Interim Assistant Dean of Multicultural Programs at Marquette University in Milwaukee, WI, where she previously served as the coordinator for the Health Careers Opportunity Program in the University's School of Dentistry.
Gross received her Masters of Education in Educational Leadership from Marquette in 2004, concentrating on College Student Personnel. She also did her undergraduate work at Marquette, graduating in 1995 with a degree in African American Studies.
While at Marquette, Gross directed the campus' Multicultural Center, and she comes to Sarah Lawrence with experience in the development of student-focused cultural programs and in increasing students' awareness regarding ethnic and cultural heritage, as well as the diversity of their campus.
Gross is a member of the National Association of Student Personnel Administrators and served at Marquette on the President's Task Force on Diversity, Student Recruitment, and Retention, as well as on the board of the Ethnic Alumni Association.
---

In addition to the newly appointed Director of Diversity and Campus Engagement, Mary Spellman has been appointed Dean of Student Affairs at Sarah Lawrence College, joining the Student Affairs staff on July 11th.
"Mary joins the Student Affairs staff during a time of great excitement and anticipation," said Green. "The campus is looking forward to the opening of newly renovated student spaces, and I am confident Mary will provide the leadership and vigor that will enable this new space to benefit the entire student community."
Spellman brings with her to Sarah Lawrence a student affairs philosophy which highlights her belief that "education is a holistic process" and that "academic and student affairs must work together to create truly transformative educational environments."
"While I have only been here a short time, I have already fallen in love with Sarah Lawrence," Spellman said. "I am energized by the College's educational mission and program and the people are so warm and welcoming. I am excited about meeting more of the students in August and seeing the campus come alive with their energy and creativity."
Spellman comes to Sarah Lawrence from Saint Mary's College of California in Moraga, CA, where she served as the College's Dean of Student Life. Prior to her four years at Saint Mary's, Spellman served as both the Assistant Dean of Students and the Director of Student Activities at Dickinson College in Carlisle, PA.
Spellman holds a Masters in College Student Personnel Administration from Indiana University, as well as a B.A. in Anthropology from Occidental College in Los Angeles. She is currently completing work on an Ed.D. in Educational Leadership from Saint Mary's College of California.