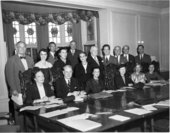 When Sarah Lawrence College's 50th reunion class convened last week they were reminded of the political turmoil that marked their four years at the College. The year the class of '55 began their studies Sarah Lawrence, among other colleges and universities across the country, came under attack for employing "subversive" and "communist" faculty members, an attack that would last an entire decade and that would be met with a strong defense of academic freedom by the College's president and board of trustees.
Sarah Lawrence Under Fire, an exhibit curated by the College's Archivist, Abby Lester, documents the attacks against 18 faculty and former faculty members – among them sociologist Helen Merrell Lynd, anthropologist Irving Goldman and poet Muriel Rukeyser. Rising to the College's defense President Harold Taylor led a vocal campaign to counter the onslaught from the American Legion and the Senate Internal Security Subcommittee, known as the Jenner Committee.
Invoking the Board of Trustees 1938 Statement on Academic Freedom, Taylor gained prominence traveling across the country, lecturing and writing numerous articles on the subject. Historians cite both the president's and trustees' vigorous response to the attacks as exceptional at the time.
Anne Stevens Hobler '39, of Washington D.C., was a member of the Board of Trustees at the time. "Harold Taylor was at his best. He went to bat for the faculty members and so did the trustees. It was a very unifying time for students and faculty, which created a strong sense of community on campus, much like 9/11," she said.
The attacks on Sarah Lawrence also engendered support from the Westchester area. Says Hobler, "I was living in Bronxville. A group of people there, liberals, professionals, writers, came together to help defend the faculty. They formed the Westchester Committee for Sarah Lawrence and continued their involvement and support over the years."
The exhibit, on display in the College's library through September, includes images sensationalizing the threat of Communism, letters, telegrams, articles and photographs, along with explanatory text.