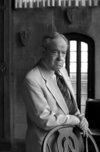 Nationally renowned educators will address controversial issues in education that they consider to be of crisis proportions at a conference hosted by Sarah Lawrence College's Child Development Institute (CDI) April 1–2.
Confronting the Crises in Education will focus on critical issues rocking the early childhood and elementary education communities, including the pressures to introduce academics in preschool, how to close the achievement gap among students of differing backgrounds, educational challenges of race and class, and competing models of school reform. Panelists will discuss these crises and present their views on ways to reconcile them.
"There is a real sense that these crises have existed in various forms for decades, but the debate on how to resolve them is at a much higher intensity now," says Margery Franklin, CDI director. "People in the field feel an urgency about articulating and debating issues in ways that the larger public can understand, respond to and do something about."
Designed to provide a forum for substantive discussion of current debates in education, the conference brings together a group of eminent scholars who will speak on topics at the intersection of theory, policy and practice as well as engage the audience in discussion.
Edward F. Zigler, Director of the Bush Center in Child Development and Social Policy, Yale University and Sterling Professor of Psychology, Emeritus will present the keynote lecture on Friday April 1 at 4:30 p.m.
Four successive panels will be held on Saturday, April 2 beginning at 9:00 and running until 5:00 with a break for lunch at 12:15. Closing remarks will conclude the program at 5:15 and a reception will be held from 5:30-6:30.
Early Education: Problems and Prospects –
Sharon Lynn Kagan and Edward Zigler
Issues of Equity, Standards, and School Policy –
Richard Rothstein: Can Schools Close the Achievement Gap?
Charles V. Willie: The Real Crisis in Education: Linking Excellence and Equity
Class, Race, and Ethnic Identities –
Walter Feinberg: Rethinking the Educational Challenge of Race and Class
Emilie Vanessa Siddle Walker: Where do we go without the Network of Black Educators?
Revisioning Schools –
Deborah Meier, Nancy Faust Sizer, Theodore Sizer: Keeping School: Principals' Responsibility to Families and its Implication for What a Truly Public School Must be
The advance registration fee of $25 includes a box lunch and refreshments. For further information, contact Jane Fineberg at (914) 395-2630, or e-mail jfineberg@slc.edu.
Sarah Lawrence College's Child Development Institute was established in 1987 to develop programs for early childhood and elementary school teachers, administrators, child development professionals, parents and the community at large.

KEYNOTE SPEAKER:
Edward F. Zigler is Sterling Professor of Psychology, Emeritus at Yale University and founder and Director of Yale's Center in Child Development and Social Policy, the first center in the nation to combine training in developmental science and policy construction. Dr Zigler served as the first Director of the Office of Child Development (now the Administration on Children, Youth and Families) and Chief of the U.S. Children's Bureau. He was a member of the National Planning and Steering Committee of Project Head Start and helped to plan several national projects and policies, including Follow Through, the Parent and Child Centers, Early Head Start, and the Family and Medical Leave Act. In recent years, Dr. Zigler created the School of the 21st Century, which has been adopted by more than 1,300 schools in 20 states. He co-founded the Co-Zi model, which combines James P. Comer's School Development Program and Zigler's 21st Century School model. Dr. Zigler is on numerous national advisory boards, and consultant to a number of cabinet-rank officers. He also regularly testifies as an expert witness before congressional committees.

PANELISTS:
Walter Feinberg is Professor of the Philosophy of Education at the University of Illinois, Urbana Champaign. He is past president of the American Educational Studies Association and the Philosophy of Education Society, board member of the National Society for the Study of Education, and co-principal investigator on the Illinois Project for Democratic Accountability. His past research focused on different models of the social function of education, knowledge and values in educational research, and the philosophy behind progressive educational reform, among other topics. Dr. Feinberg's current work centers on the role of public schools in helping cultural subgroups maintain their identity, philosophical justifications for affirmative action, and an examination of the philosophical roots of American pluralism and multiculturalism.
Sharon Lynn Kagan is the Virginia and Leonard Marx Professor of Early Childhood and Family Policy at Teachers College, Columbia University and Associate Dean for Policy and Director, Office of Policy and Research. She is co-director of the National Center for Children and Families, and Professor Adjunct at Yale Child Study Center. Past president of the National Association for the Education of Young Children (NAEYC) and board chair of Family Support America, Dr. Kagan was a member of the Clinton Education Transition Team. She is widely known for her work related to the care and education of young children and their families. Her research has centered the application of child and parent development research to the formation and implementation of public policies, and the impact of institutions on the development of low-income children, with focus on childcare and preschool programs and family-school relationships. She has also done extensive work on the development of leadership in early childhood education.
Deborah W. Meier is the founder and principal of the Mission School, a K-8 pilot elementary school in Boston's Roxbury community. She is a founding member of the National Board of Professional Teaching Standards, and the North Dakota Group on Evaluation, and a board member of FairTest, among other organizations. She has spent more than three decades working in public education as a teacher, writer and public advocate. Deborah Meier is widely recognized for her work as the founder and director of a network of successful public elementary schools in East Harlem. Subsequently, she founded Central Park East Secondary School, and co-directed a project to re-design two failing New York City high schools. The schools that Deborah Meier helped to create serve predominantly low-income African-American and Latino students, and work on a democratic model of collaboration among administration, teachers, parents and children.
Richard Rothstein is Research Associate of the Economic Policy Institute and the Julius and Rosa Sachs Distinguished Lecturer at Teachers College, Columbia University. From 1999 to 2002, Rothstein was the national education columnist of the New York Times. He is currently a contributing editor of The American Prospect. Richard Rothstein is well known for his analyses of issues at the intersection of educational policy, practice, social class and economic factors. His writings cover a range of issues central to contemporary debates on school choice, standards and standardization, and what Rothstein has termed "the myth of public school failure." Recently, he has turned his attention to developing social strategies for remedying the differences in academic achievement between students of differing socioeconomic backgrounds.
Nancy Faust Sizer holds the position of Lecturer on Education at the Harvard Graduate School of Education. A career educator whose experience encompasses both public and private educational settings, she recently served as acting co-principal of the Francis W. Parker Charter Essential School. Previously, she taught seventh through twelfth grade students at the Wheeler School in Providence, Rhode Island where she chaired the history department, developed curriculum, and served as mentor to new teachers. Before the Wheeler School, Nancy Sizer taught history at Phillips Academy for eleven years. Her earlier experience includes teaching at the Bromfield School and the Cambridge Rindge and Latin School.
Theodore Sizer is Visiting Professor of Education at the Harvard Graduate School of Education, University Professor Emeritus at Brown University, and Chair Emeritus of the Coalition of Essential Schools. Earlier, Dr. Sizer held the positions of professor and dean of the Harvard Graduate School of Education, and headmaster of Phillips Academy. In the early 1980s, he headed a study looking at the practices of American high schools, and in 1984 founded the Coalition of Essential Schools which, from its beginning, has been highly influential in realizing models of progressive school reform. The Coalition is a national network of more than 1200 schools and Centers engaged in redesigning schools to promote enhanced student learning and achievement in accordance with a set of shared goals that includes modeling democratic practices and honoring diversity. With his wife, Nancy Faust Sizer, Dr. Sizer recently served as Acting Co-Principal of the Francis W. Parker Charter Essential School.
Emilie Vanessa Siddle Walker is Winship Distinguished Research Professor in the Division of Educational Studies at Emory University. Dr. Walker began her career as a high school teacher in Chapel Hill High School and then at Cummings High School. She also taught English seminars for minority students at Phillips Academy. Prior to accepting a position at Emory, she taught at Wheelock and Elon Colleges and the University of Pennsylvania. Dr. Walker's primary research interest centers on historical and sociocultural influences on the teaching and learning of African American students, with a focus on the impact of segregation, racism, and community conditions. Dr. Walker is well known for her research and writings on the history of African-American education, and the impact of segregation, racism, and community conditions on the learning and education of African Americans.
Charles V. Willie is the Charles William Eliot Professor Emeritus of Education at the Harvard Graduate School of Education. Prior to Harvard, he was chairman of the Department of Sociology and vice president of Syracuse University. He was appointed to the President's Commission on Mental Health by President Carter, served on the board of directors of the Social Science Research Council, and held positions as vice president of the American Sociological Association and president of the Eastern Sociological Society. Dr. Willie has also served as consultant, expert witness, and court appointed master in major school desegregation cases. His research in areas including desegregation, public health, family life, race relations and urban community problems is widely recognized as an important contribution to understanding central issues in these areas.