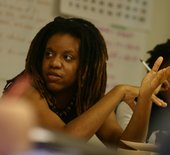 Sarah Lawrence College is celebrating Black History Month with events honoring the black experience, including a poetry jam, photography exhibit, fashion show, and dances, organized by the student group Harambe. Dr. Beverly Daniel Tatum, president of Spelman College will deliver a lecture to the College community and novelist and Sarah Lawrence faculty member LaShonda Barnett will speak about black women's music in a lecture open to the public.
Tatum, considered to be an expert on race relations in the classroom and the development of racial identity, is the president of Spelman College in Atlanta and the author of Why Are All The Black Kids Sitting Together In The Cafeteria? And Other Conversations About Race: A Psychologist Explains the Development of Racial Identity and Assimilation Blues: Black Families in a White Community. Tatum was a participant in President Clinton's "Dialogue on Race" and conducts workshops with students, parents, and educators around the country.
In her public lecture, to be held on Tuesday, February 22 at 5:30 p.m. in the Esther Raushenbush Library, Barnett will examine songs by black women and how they function not only as self-representation but also as a collaboration of ideas and values from both the singers' community and the dominant culture. Barnett is a member of the College's women's history faculty whose research interests include African-American expressive culture and jazz studies.
Harambe is a Sarah Lawrence student-run organization whose mission is to support and educate on the African Diaspora through awareness and social events, educational programming, and the celebration of Black History Month.