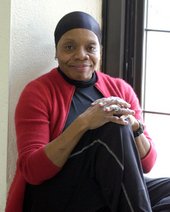 Blondell Cummings, Viola Farber artist-in-residence at Sarah Lawrence College, will present a dance production that focuses attention on the important political issue of human rights. The production will be presented as a performance and discussion at Sarah Lawrence College's Bessie Schoenberg Dance Theatre on February 12 at 7 and 9 p.m. For more information and reservations please call (914) 395-2433.
Cummings is challenging her own creative process by working with students who, under her direction, are conducting research, creating movement, and incorporating visual media into a new work. Cummings is basing the work on the United Nations Declaration on Human Rights. It will reflect students' research into human rights in different countries and across cultures.
"We are using the arts as a way to explore the concept of human rights and how it affects people's attitudes and actions," she said. "If people were more aware of human rights, would people be more vigilant when rights are threatened?" she asks. " How aware are we of how they are practiced in our daily lives?"
Cummings is an original founder of Cycle Arts Foundation, a multi-disciplinary arts collaborative(dance, music, theater, visual media and literary arts). Cummings tours her work throughout the U.S., Europe, Asia and Africa. She was featured in the film "African American Influence On Modern Dance," Michael Blackwood's "Dancing On The Edge" and various dance publications. She is a recipient of numerous grants and fellowships. Her latest projects include "Rhythms, Rituals Feeding My Spirit," a museum exhibition, the Boomer Project, a think tank, and "Human Rights: An Artist's Investigation."
Based on modern dance technique, the dance program at Sarah Lawrence has long been an important training ground for young artists. Past graduates include renowned performers and choreographers Meredith Monk, Lucinda Childs and John Jasperse. The program, directed by dancer and choreographer Sara Rudner, encourages each student to craft a personal artistic vision and benefits from the legacies of the teacher-choreographer-performers who shaped the program – among them Viola Farber and the legendary Bessie Schoenberg.