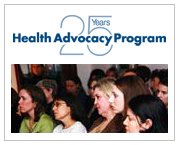 Sarah Lawrence College's graduate program in Health Advocacy will sponsor a conference for advocates working in a wide spectrum of disease-specific and issue-oriented organizations that will address pressing questions related to participation in medical research. "Health Advocates in Research" will examine how advocates participate in research and what ethical principles should guide their participation. The conference will take place on January 14 from 8:30 a.m.–7 p.m. on the Sarah Lawrence campus in Bronxville, New York, just north of New York City. For more information, please call (914) 395-2371.
In recent years health advocates have focused increasing attention on scientific research that embodies promises of improved health, but also the risks of human experimentation. Advocates are now working on research-related issues both from within and from outside the health care system in disease specific groups and clinical settings, with research organizations, the media, oversight agencies and local communities. Health advocates are employing a range of strategies in the research arena: formulating or reformulating research questions, designing or redesigning studies, insuring informed consent, monitoring human subjects' protections, increasing public accountability, and finding more effective ways to safeguard research subjects and to educate patients, consumers and the general public.
The topic will be studied in two plenary sessions, followed by smaller, facilitated discussion groups. The day will culminate with the development of concrete goals for future action. Speakers and panel members include Gwen Darien, Director, Department of Survivor and Patient Advocacy, American Association for Cancer Research; Rebecca Dresser, Professor of Law and Ethics in Medicine, Washington University School of Law; Paul Gelsinger, Vice President, Citizens for Responsible Care and Research (CIRCARE); and Barbara Seaman, women's health advocate, journalist and author and co-founder, National Women's Health Network, among others.
Founded in 1980, the Sarah Lawrence Health Advocacy Program offers a Master of Arts degree, carefully balancing a rigorous educational experience with practical, career-oriented training. The interdisciplinary core course focuses on the theory and practice of health advocacy, and courses in the humanities, sciences and social sciences explore advocacy from a variety of disciplinary perspectives. "Health Advocates in Research" is the inaugural conference of an annual series that will focus on issues of central concern in health and patient advocacy, and celebrates the 25th anniversary of the College's unique program.