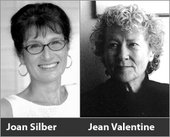 Two of Sarah Lawrence College's writing faculty members, Joan Silber, fiction, and Jean Valentine, poetry, have been named as finalists in their respective genres for the prestigious National Book Award.
Finalists are selected by four separate panels of judges, who choose what they believe to be the best books of the year in the categories of children's literature, fiction, non-fiction, and poetry, by American writers. Joan Silber's book of short stories, Ideas of Heaven: A Ring of Stories, and Jean Valentine's collection of poetry Door in the Mountain: New and Collected Poems, 1965-2003 were selected from 1,074 entries submitted by 226 publishers and imprints.
Winners of each genre will be announced on November 17 at the Benefit Dinner and Ceremony at the Marriott Marquis in New York City. Each winner will receive $10,000 and a bronze medal, while each finalist will receive $1,000 and a bronze medal.
Joan Silber is the author of five books of fiction, and a winner of a PEN/Hemingway Award. Her stories have been published in The New Yorker, Ploughshares, The Paris Review, and other magazines. She has received awards from the Guggenheim Foundation, the NEA, and the New York Foundation for the Arts. Silber has taught at Sarah Lawrence from 1985-1990, and since 1994.
Jean Valentineis the author of ten books of poetry. Her first book, published in 1965, was the recipient of the Yale Younger Poets Prize. Valentine has also been the recipient of a Guggenheim Fellowship, a Maurice English Prize, a Sara Teasdale Award, and awards from the National Endowment for the Arts, The Bunting Institute, The Rockefeller Foundation, and The New York Council for the Arts. Valentine taught at Sarah Lawrence for over 20 years and will be a poet in residence at the College this spring.