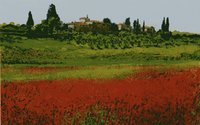 During the month of October, Sarah Lawrence College, the City of Yonkers, members of the Italian community and supporters celebrate Italian-American month with a collaborative festival "Celebrating Italian Culture in Yonkers." The festival features the contributions of Italians to world culture and includes a classic Italian film series, lectures on Italian art and literature by members of the Sarah Lawrence faculty and an exhibit of paintings and color etchings of the Tuscan landscape by a faculty member of Sarah Lawrence's program in Florence. All events are open to the public and free of charge. For more information please call (914) 395-2411.
ART EXHIBIT
"Tuscan Landscapes: Views From The Artist's Window:" Paintings and Color Etchings from Florence and Barga
October 1-October 28
Yonkers Public Library, Riverfront Branch
Monday-Thursday 9 am - 8 pm
Friday 10 a.m. - 5 p.m.
Saturday 9 a.m. - 5 p.m.
Sunday 12 p.m. - 5 p.m.
The exhibit includes oil paintings and color etchings of the Florence and Barga countryside, revealing the unique beauty of the Italian landscape colored by the changing seasons.
Swietlan Nicholas Kraczyna is a professor at the Sarah Lawrence College program in Florence, where he lives and works in his adopted country of Italy from his studio in the house of the Italian Master Domenico Ghirlandaio, the teacher of Michelangelo. Born on the Polish-Russian border in 1940, Kraczyna immigrated to the United States after WWII, where he studied at the Rhode Island School of Design. Kraczyna first traveled to Italy 1961 on a scholarship from RISD, and after completing a Master's degree, returned to live and work there, allowing the particular character of the country to inform his work. In his private studio, overlooking the city of Florence, he teaches "Master Classes" for advanced students in his own multi-plate color etching technique, in addition to his summer workshops in Barga. The exhibit features the distinct multi-plate color etching technique that has earned Kracyzna notoriety not just in Italy, but also internationally.
FILM SERIES
Classic Italian Film Series
Four Classic Italian films directed by four of Italy's most renowned directors, Vittorio De Sica, Federico Fellini, Michelangelo Antonioni and Luchino Visconti, will be screened in the new Heimbold Visual Arts Center at Sarah Lawrence College. Each film will be introduced by Gilberto Perez, Professor of Film History at the College.
The Bicycle Thief
Thursday, October 7th
Heimbold Visual Arts Center
7 pm
Directed by Vittorio De Sica, this beautiful 1947 film centers around the life of Antonio Ricci, surviving in post WWII Italy, whose job putting up posters is threatened by the theft of his bicycle. Black and white, 93 min.
I Vitelloni
Thursday, October 14th
Heimbold Visual Arts Center
7 pm
This semi-autobiographical masterpiece, the second directorial endeavor by Federico Fellini, tells the story of a year in the lives of five young men living in a small town on the Adriatic. Filmed in 1953. Black and white, 103 min.
L'Avventura
Thursday, October 21th
Heimbold Visual Arts Center
7 pm
Considered to be Michelangelo Antonioni's masterpiece, the 1960 film is a hyper-realistic and complex story of love, alienation, and Italy's socio-economic atmosphere told through the journey of two people searching for a missing lover and friend. Black and white, 104 min.
The Leopard
Thursday, October 28th
Heimbold Visual Arts Center
7 pm
Luchino Visconti's 1963 grand Italian epic stars Burt Lancaster as the tormented Prince Salina, a Sicilian landowner of the 19th century, experiencing the changing tides as Italy becomes a unified state. Color, 185 min.
LECTURES
La Bella Figura: The Italian Way of Beauty in Art by Joseph Forte
Tuesday, October 5
Yonkers Public Library, Riverfront Branch
6:30pm
Human beauty and expression, how do they fit together? See how and why the
Italian way became the signature form in the artistic and philosophic
traditions of the Western world.
Dante and Art by Judith Serafini-Sauli
Tuesday, October 19
Esther Raushenbush Library
6:30pm
Sarah Lawrence professor of Italian language and literature, Judith Serafini-Sauli, will speak on the Italian poet and politician Dante Alighieri who is widely considered to be one of the greatest poets of Western Civilization.
The Festival is sponsored by the City of Yonkers, Philip A. Amicone, Mayor, Sarah Lawrence College, the following members of the Italian Community:
Order Sons of Italy in America: John D Calandra Lodge #2600, Anthony Maggiacomo Lodge #2320, LeAmiche Lodge; Café One, La Lanterna; Lunciano's Restaurant, Midland Pizzeria, Pietro's Tombolini Restaurant, Silvio's Italian Restaurant and Pizzeria and, Homes for America Holdings, Inc., Girasole International, Inc. and Yonkers Friends of the Arts.