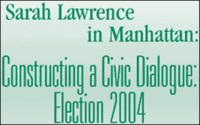 Sarah Lawrence's Center for Continuing Education (CCE) will host The Manhattan Seminars, a series of discussions led by members of the Sarah Lawrence faculty. The theme of this year's seminars is "Constructing a Civic Dialogue: The Condition of Democracy in America." The Manhattan Seminars will take place on four alternate Tuesdays from 6:30 - 8:30 p.m. in the Conference Room, the New York Foundation, Empire State Building, 34th St. and 5th Ave., Room 2910. Tickets are $30 for individual sessions and $100 for the entire series. Light refreshments will be served. To register for the series, please call (914) 395-2411.
Each session will focus on different aspects of the American democratic system. Says Mayra Bloom, Director of the CCE: "This is an opportunity for some in-depth discussion about important issues facing us in this election season."
The full schedule for the Manhattan Seminars is:
October 12: "Economic Justice and the Functioning of Democracy." Economist Marilyn Power will examine claims and counterclaims about the relation between inequality and democracy, private accumulation and public provisioning. There will be a particular focus on Social Security, currently targeted for cutbacks.
October 26: "Can a democracy survive without a strong labor movement?" Attorney K. Dean Hubbard will focus on what workers' rights have to do with the continued viability of democracy in the United States.
November 9: "Is the U.S. Still A Democracy? The 2004 Election." Political Scientist Ray Seidelman will assess aspects of the election, including voter turnout and electoral procedures.
November 23: "Race, Incarceration and Democracy." Global Economist Jamee Moudud, will discuss the relationship between race, economic status and incarceration in the United States.