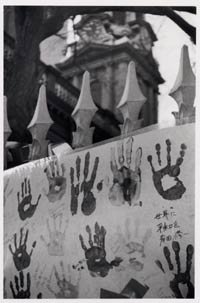 A photographic exhibit at Sarah Lawrence College by Jeannette Flamm, Prayers at the Gate, remembers and reflects on the tragic events of September 11, 2001. The exhibit will run from September 1- 30 in the Esther Raushenbush Library. An opening reception will be held on Friday, September 10 at 3:30 pm. Both the exhibit and reception are free and open to the public. For more information and library hours please call (914) 395-2470.
Prayers at the Gate is a visual exploration of America's cultural response to grief and spirituality. Flamm's images of three American sites, two of which are directly related to September 11, portray communal outpourings of faith and respect. The photographs show personal offerings, including a multitude of baseball caps left on these sites, notes, handmade crosses and crucifixes.
"Since September 11, 2001, grief and prayer are being more openly expressed and made manifest in shrines of solace. Because of the violence erupting into our lives, prayer is no longer kept as a singularly private act or relegated to traditional spaces," Flamm says.
The sites Flamm has photographed in relation to September 11 are the gates of St. Paul's Chapel and the memorial site for Flight 93 in Shanksville, Pennsylvania. St. Paul's served as a place of rest and refuge for recovery workers at Ground Zero. These sites have become actual places of mourning for lives lost on September 11.
Also featured in the exhibit are photographs of the sanctuary at Chimayo, New Mexico, a 19th century chapel, considered to be "The Lourdes of the Southwest" for the alleged healing powers of the earth on which it is built.
Jeannette Flamm, a former Assistant Dean of the Graduate School of Fine Arts at the University of Pennsylvania, and instructor of photography for the "Say Yes to Education" program has participated in numerous group exhibitions and has had eight solo exhibitions since 1996. Her photographs have been on display at the Philadelphia Museum of Art, Haverford College, the University of Pennsylvania, the Pennsylvania State Museum in Harrisburg, Sarah Lawrence College, and at numerous galleries.