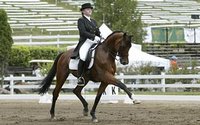 Lauren Sprieser, Chicago native and Sarah Lawrence student, with horse Bellinger, tied for third place at the end of the first half of the Dressage Team Championship in the North American Young Riders' Championship (NAYRC). The remaining dressage riders will compete today. This is Sprieser's second year competing with the United States' Region 2 team in the NAYRC.
At the 2003 NAYRC in Bromont, Canada, Sprieser helped the Region 2 team bring home a Bronze medal. That fall, she resigned from the Sarah Lawrence Equestrian team in order to dedicate her riding time solely to practice for competitions.
"This is a great achievement for Lauren particularly because it's her second year qualifying for Young Riders," says Lori Rakoczy, Sarah Lawrence's Equestrian Coach. "It's a truly noteworthy success for a Sarah Lawrence student, as the College's students are generally recognized for their cerebral and artistic talents rather than athletic ones."
What stands out most about Sprieser's equestrian abilities is that this past year, she competed with two horses, Bellinger and L'Etoile 6. Most, if not all, equestrian competitors ride only one horse. Though Sprieser will just compete with Bellinger for the 2004 NAYRC, L'Etoile 6, former horse of German Olympic gold medalist Monica Theodorescu, is new to the United States and has already begun to win and place in competitions with Sprieser.
Following the 2004 NAYRC, Sprieser will take a leave of absence from Sarah Lawrence and head to Warendorf, Germany where she and both horses will train with Theodorescu—a rare opportunity for American Young Riders. Bellinger will begin work at the Grand Prix level, the highest level of equestrian riding competed at the Olympic Games. Sprieser also hopes to begin competing overseas.
The NAYRC is the highest rated equestrian championship in the disciplines of eventing, dressage, and show jumping in North and Central America, including the Caribbean and Bermuda, and is second only to the Olympic and Pan-American games. The Region 2 team, of which Sprieser is a competitor, competes in the Dressage category, where horse and rider are judged on their ability to perform walk, trot and canter exercises in a seamless, graceful manner. The 2004 NAYRC will be held August 10-15, at Tempel Farms in Wadsworth, Illinois.
Photo: Lauren Sprieser and 12 yr. old Bellinger. —Available upon request.