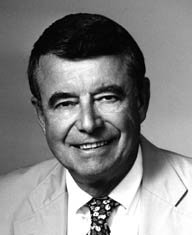 Sarah Lawrence College has named longtime Bronxville resident Robert Riggs the 18th Chairman of the Board of Trustees. Senior counsel at the Wall Street law firm Carter Ledyard & Milburn and director of a number of corporations, he has served most recently as Sarah Lawrence's vice chairman and has been a member of the board for ten years.
Riggs and his family have had a long standing relationship with Sarah Lawrence. His wife Wendy Riggs attended the college's Center for Continuing Education for post-bachelors studies and his mother, Frieda Wildy Riggs, was a generous supporter of the Esther Raushenbush Library and a member of the board of the Friends of the Library for nearly twenty years, for which she is honored with a plaque in the library's Seely garden. In 1997 the Riggs family established Sarah Lawrence's Frieda Wildy Riggs Chair in Religious Studies to honor her and to support the teaching and study of all varieties of religion and its significance for culture, private and public.
Riggs and his wife have been actively involved in the College's $75 million fund raising campaign, "the Sarah Lawrence Difference. Preserve it. Enrich it," that will conclude in the fall and that will have raised funds for the Monika A. and Charles A. Heimbold, Jr. Visual Arts Center, scholarships, faculty support, general improvements to the College campus, technology and endowment. Riggs stated that his priority as chairman is to increase the liberal arts college's endowment, explaining that at $50 million Sarah Lawrence has one of the smallest endowments of peer institutions, yet one of the strongest academic programs in the nation.
"I believe that Sarah Lawrence offers its students an exceptional educational life with an unparalleled emphasis on direct faculty student relationships in small classes and conferences. It is truly a model for higher education that must be treasured and preserved," said Riggs.
Robert Riggs attended Bronxville High School, graduated cum laude from Amherst College, and earned his law degree from Columbia Law School. He is a retired U.S. Air Force Captain. A former trustee of the Village of Bronxville, Riggs is co-chair of the Bronxville Historical Conservancy.
"As a second generation Bronxville resident I have seen first hand what a rich cultural and intellectual resource the College is for the surrounding community. I hope others will not only come to recognize its value to our local residents, but will also lend their support to ensure the College's future," he said.
The previous board chairman, Margot C. Bogert, stepped down in May 2004, but will remain on the board. She served as chairman since 1998.
Sarah Lawrence is a liberal arts college for men and women, founded in 1926, with a distinctive system of education. It is known for having one of the lowest student/faculty ratios in the country. At the core of the system are small classes, regular one-on-one student-faculty conferences, cross-disciplinary approaches and the integration of the creative arts within the curriculum.