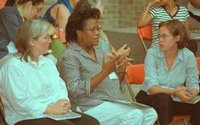 "Educational Values and Values Education: The Classroom as Community" will be the theme of this year's Empowering Teachers Program Summer Institute (July 12-16) and will address values issues in the classroom—a topic that educators have struggled with for years. Hosted annually by Sarah Lawrence College's Child Development Institute (CDI), this year's program has attracted the interest of international educators.
Participants in the Institute will attend lectures and panel discussions throughout the week and work intensively in small groups to examine the six principles of the New York State Code of Ethics for Educators, issued by the New York State Education Department in December 2003. They will report on their group-work at the end of the week.
Jane Andrias, noted leader in the progressive public education movement, will open the Empowering Teachers Summer Institute, held on the Sarah Lawrence campus, on Monday, July 12 at 11:30 a.m. with a keynote address, open to the public, entitled "Reflections on Teaching: Relationships, Possibilities, and Power."
The Empowering Teachers Program Summer Institute is a weeklong professional development workshop designed for educators working with children in early childhood education and public elementary school settings. Expected to attend this institute are six Venezuelan and two Ghanaian educators who will share their experiences with peers in their countries.
The values based theme of the Institute is undoubtedly a draw for local and international attendees. Jan Drucker, Director of the Empowering Teachers Program says that the Institute "will address how teachers can keep the classroom focus on values of collaborative work when the school culture emphasizes students' individual accomplishments, through methods such as standardized testing. We will also look at how values are taught in a didactic way as well as the ways values explorations arise organically in the classroom environment."
The Empowering Teachers Program is hosted by Sarah Lawrence's Child Development Institute (CDI). The Child Development Institute (CDI) was established in 1987 to develop programs for early childhood and elementary school teachers, administrators, child development professionals, parents and the community at large. Through its work, CDI presents a progressive perspective on child development and education. For more information about the CDI and its programs, please call (914) 395-2630.