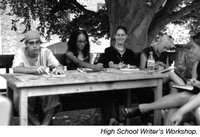 Sarah Lawrence College, once again, proves to be the place for writers over the summer. The annual Summer Seminar for Writers and High School Writer's Workshop are programs designed to foster the development of new and experienced writers.
The Summer Seminar for Writers (June 20-25 ) is a non-competitive, week-long series of workshops, in which students are encouraged to produce new work and reflect on work completed prior to the program. Students are admitted to study in fiction, non-fiction, or poetry and work intensely in classes with no more than 12 participants.
Conferences, a unique aspect of the Sarah Lawrence experience and of both summer programs, give students the opportunity to meet one-on-one with their workshop professors, while supplemental conferences provide them with a chance to study with other workshop faculty.
Ample time is provided for students to read and write, and readings, lectures, panels, and social events round out the experience and contribute to the overall goal of the seminar—to enable participants to find new directions, produce new work and foster new ideas in a community of people devoted to the calling and craft of writing.
The High School Writer's Workshop (July 5-9) has a similar format to the Summer Seminar for Writers though theatre workshops are included as part of the writing curriculum. Led by theatre artists, these workshops helps students explore the creative process through improvisation, group projects and games.
The writer's workshop is where students will write, read each other's work, learn to observe, and transform what they see into poems and stories. Emphasis is on production of original writing, collaboration and discussion, and revision.
There will also be opportunities for participants to conference with both their writing and theatre workshop leaders. The week of workshops, faculty and student readings ends with a celebration of student work.