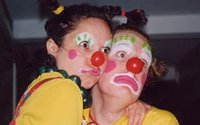 Sarah Lawrence College welcomes children of all ages to its annual Mayfair on Saturday, May 1 on Westlands lawn from 10 a.m. to 3 p.m. This year, the college presents "Down the Rabbit Hole," an Alice in Wonderland theme. Mayfair will include activities based on this favorite children's classic, including croquet with the "Queen of Hearts" and a tea party with the "Mad Hatter" as well as traditional rides, games and more.
"We are excited about the theme we have chosen this year," states student coordinator Cole Webster, "We decided to focus on several of the stories from Alice in Wonderland and Through the Looking Glass and use various characters around which to design games."
Additional activities include an "archeological dig," "moonwalk," face painting, a clown show, cotton candy, music, crafts, prizes and food. Admission is free; ticket prices for activities vary. Free parking is available.
All proceeds for this event benefit Sarah Lawrence College's Students for Student Scholarships Fund, the oldest student initiated scholarship fund in the US.
If it is raining, this event is canceled. For more information, please call the Office of Student Affairs at (914) 395-2575.