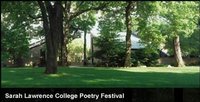 Sarah Lawrence College will host its first Poetry Festival Saturday and Sunday, April 17 – 18. This event is believed to be the first major poetry gathering of its kind in Westchester County and coincides with National Poetry Month. The Sarah Lawrence College Poetry Festival is free and open to the public. For more information, please email: mailto:poetryfestival@gm.slc.edu
The weekend will consist of two full days of poetry readings featuring some of the nation's most important poets including: Kim Addonizio, Lucie Brock-Broido, Ellen Bryant Voigt, Justin Chin, Edward Hirsch, Tony Hoagland, Suji Kwock Kim, Ann Lauterbach, Charles Martin, Patricia Smith, James Tate, Edwin Torres, Dara Wier, and Sarah Lawrence Faculty members Laure-Anne Bosselaar, Kurt Brown, Stephen Dobyns, Kate Knapp Johnson, Victoria Redel, Vijay Seshadri, and Mark Wunderlich. Sarah Lawrence students will also read from their work.
The program begins at 11:30 a.m. on Saturday, April 17 with registration and a welcome address in Reisinger Concert Hall. There will be four concurrent readings in the afternoon followed by a featured reading and Open Mic in the evening. The festival continues on Sunday April 18 with readings beginning at noon. A panel discussion "On the Art of Revision" will take place at 2:30 p.m. followed by another reading and a final featured reading in the evening.
The Sarah Lawrence Poetry Festival was envisioned and spearheaded by Liz Irmiter, MFA graduate student who, with a committee of fellow students and faculty members, selected a group of writers that represent different poetic voices ranging from free verse, New Formalism, L-A-N-G-U-A-G-E and spoken word.
Committee members include MFA student Alexandra Grace, undergraduates Kit Frick and Sarah Janczak, and faculty advisors Kurt Brown and Jeffrey McDaniel. Says Irmiter, "The committee chose to have as many styles of poetry represented as possible, because we believe that poetry can appeal to everyone. The most important thing about poetry today is that there are so many voices, so many writers taking risks whether in a new use of a traditional form or in the expression of language itself."
This event is sponsored by Sarah Lawrence College, The Diana Leslie Fund, Friends of the Library, and Poets and Writers, Inc. through a grant it has received from The New York State Council on the Arts-supplement.