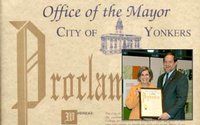 Yonkers Mayor Philip A. Amicone pronounced March 3, 2004 Sarah Lawrence College Day in Yonkers and called upon city residents to join him in extending warmest wishes and sincere congratulations to the College as it celebrates its 75th anniversary with an exhibit: Sarah Lawrence College: Past and Present.
The thematic narrative of the exhibit, along with reprints of photographs, documents and newspaper clippings, explores the essence of what makes Sarah Lawrence a unique institution and features a detailed view of the College's relationship with its local community. The exhibit explores the College's vision for education, a progressive philosophy of education adopted by William Van Duzer Lawrence who founded the College in memory of his wife, Sarah Bates Lawrence.
Other materials explain the pioneering programs SLC has initiated in such areas as Continuing Education, Early Childhood Education, Human Genetics, Health Advocacy and Women's History, its multi-faceted role in the community, the importance of the arts and creativity in an SLC education, featured alums and examples of Sarah Lawrence as seen in popular culture.
The exhibit will run through the month of March at the Riverfront Library branch of the Yonkers Public Library. It will then be on display in the College's Esther Raushenbush Library from April 5 to June 4. It appeared at the Bronxville Public Library in November.