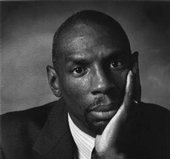 Sarah Lawrence College's Child Development Institute will host the 17th Annual Longfellow Lecture featuring Geoffrey Canada on Thursday, April 1 at 4:30 p.m. in Reisinger Concert Hall. Canada, author and award-winning expert on issues concerning violence, children and community redevelopment will speak on "Violence and Education: The Twin Crises Facing America's Children." This event is free and open to the public. Reservations are required. For more information, and to place reservations, please call (914) 395-2412.
Geoffrey Canada, who grew up in the South Bronx, has dedicated his life to helping children with difficult early life experiences secure both educational and economic opportunities. He received the first Heinz Award in the Human Condition for his work as President/ CEO of Harlem Children's Zone, Inc. Canada is the acclaimed author of Fist Stick Knife Gun: A Personal History of Violence in America, and Reaching Up for Manhood. He is also the founder of the Chang Moo Kwan Martial Arts Center, where he teaches the principles of tae kwon do, anti-violence and conflict resolution techniques to community youth.
Margery Franklin, Director of the Child Development Institute, feels Canada's lecture will bring "more awareness to the problems that besiege our communities and to think about ways we might contribute to the kinds of change that Geoffrey Canada is working towards."
This lecture is seventeenth in a series honoring the memory of Cynthia Longfellow '72, Harvard Ed.D. '79, who devoted her professional life to bettering the lives of young children.