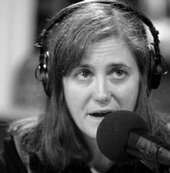 Amy Goodman will speak on "Independent Media in a Time of War and Elections" on Friday, March 5 at 7 p.m. in Reisinger Concert Hall. The event is free and open to the public. For more information, please call (914) 395-2411.
Amy Goodman believes that for true democracy to work, people need easy access to independent, diverse sources of news and information. However, she is concerned that the last two decades have seen unprecedented corporate media consolidation. The U.S. media was already fairly homogenous in the early 80s; argues Goodman; some fifty media conglomerates dominated all media outlets, including television, radio, newspapers, magazines, music, publishing and film. In the year 2000, just six corporations dominated the U.S. media, she says. Goodman's lecture will focus on her work as a progressive journalist working in independent media.
Amy Goodman is a documentary filmmaker and host and executive producer of Democracy NOW!, the award winning daily radio show on the Pacifica Radio network.
This event is hosted by Sarah Lawrence College's Women's History Department, and co-sponsored by the Bronxville League of Women Voters.