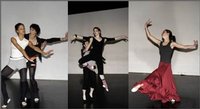 "Barefoot Balanchine," a performance celebrating the centennial of George Balanchine's birth-date, will be given on Monday, January 26 at 4 p.m. in the Bessie Schoenberg Dance Theatre of Sarah Lawrence College's Performing Arts Center. The event is free and open to the public. For more information and reservations, please call (914) 395-2433.
Taught by former New York City Ballet soloist Wilhelmina Frankfurt, currently a guest faculty member in the Sarah Lawrence College Dance Program, the performance by students in the program is a reconstruction of excerpts of ballets created by George Balanchine. During rehearsals, legendary Balanchine dancer Allegra Kent coached the Sarah Lawrence dancers.
The program includes excerpts from Vienna Waltzes (1977), music by Richard Strauss; The Four Temperaments (1946), music by Paul Hindemith and Frankfurt's own choreography based on her research of Luna Park, music by Lord Berners and part of Charles B. Cochran's "1930 Revue."
George Balanchine was the founder of the School of American Ballet and the New York City Ballet. Balanchine is a trademark of the George Balanchine Trust.
The program of dance at Sarah Lawrence, both undergraduate and graduate, is well renowned for its conservatory level instruction. It's director, Sara Rudner infuses the program with integrated, innovative approaches to the creative process following in the tradition of previous directors, Viola Farber and Bessie Schoenberg. Acclaimed dancers and choreographers Meredith Monk, Lucinda Childs and John Jasperse, among others, studied dance at Sarah Lawrence.