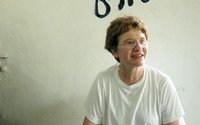 Due to its widespread popularity, the first biography of the legendary Sandinista leader Carlos Fonseca Amador, which was recently translated into Spanish, has almost sold out in Nicaragua only weeks after its publication. Authored by Sarah Lawrence College history faculty member Matilde Zimmermann, Sandinista: Carlos Fonseca and the Nicaraguan Revolution was first published in English in 2000 by Duke University Press.
The Spanish version, translated by Erick Blandón and titled Carlos Fonseca Amador y la revolución nicaragüense, was released by the University of the Atlantic Coast (URACCAN) in July. Sarah Lawrence College supported the publication with a faculty publication grant.
Fonseca was the leader of the Sandinista National Liberation Front of Nicaragua (the FSLN), and one of the most influential Latin American figures in recent history. Though Fonseca was killed in battle in 1976 and is an iconic figure in Nicaragua, little research has been done on his life—until Zimmermann's biography.
The book uses personal interviews with Fonseca's family, friends, colleagues and enemies to reconstruct Fonseca's life. Zimmermann was the first researcher to be allowed access to Fonseca's unpublished writings, which are controlled by the Nicaraguan Army.
To promote the Spanish translation of the book, Zimmermann made an eight-day, four-city book tour in Nicaragua. Five hundred people attended the four public meetings, at which Zimmermann was joined by well-known writers and historians, former revolutionary leaders and relatives of Fonseca.
The book was also featured on several TV programs. Esta Semana, the Nicaraguan equivalent of 60 Minutes, ran a 15-minute segment featuring Zimmermann and three Sandinista officials who took part in the 1979 revolution. The book was also discussed on the country's two most popular morning TV shows, numerous radio programs and in all the major daily newspapers. It has been widely praised for its thorough research and historical accuracy. Douglass Stuart, the President of the National University in Matagalpa and a distinguished historian, called the book "a magnificent work of history that reads like a work of fiction.
Fonseca's family members have also praised the book. In a personal message to the author, Carlos Fonseca's widow, María Haydée Terán, said, "I want to thank you for this wonderful book, not only as Carlos' wife but also as a citizen of Nicaragua."
Zimmermann was a Nicaragua-based journalist in the years immediately following the 1979 revolution, and worked with the Sandinista regional government in the late 1980s. She teaches Latin American history and global studies at Sarah Lawrence College, and was the Mellon Scholar at the College in 2002-03.
To order the Spanish translation of the book, contact Margarita Antonio at comunicacion.uraccan@ifxnw.com. The English-language original is available at http://www.dukeupress.edu/ and in many bookstores.