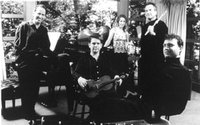 This fall, Sarah Lawrence College will begin a collaborative exchange with Music from Copland House, the acclaimed ensemble in residence at the historic, restored Cortlandt Manor home of the late composer Aaron Copland. The College, which has a conservatory-level music program, will serve as a performance and recording base for the ensemble in southern Westchester County. The group will present concerts, master classes, and workshops to music students and area residents. Music from Copland House's first concert at the College will be held on Wednesday evening, November 12.
Inspired by Copland's lifelong advocacy of American music, the ensemble is dedicated to exploring the country's rich cultural heritage. Its repertoire ranges widely across the American musical landscape but also includes many works by non-U.S. composers. Music from Copland House has performed at some of the nation's foremost concert venues including Carnegie Hall, Merkin Hall and the Library of Congress.
Music from Copland House features pianist and Copland House Artistic & Executive Director Michael Boriskin, flutist and Westchester Philharmonic Music Director Paul Lustig Dunkel, composer-clarinetist Derek Bermel, violinist Nicholas Kitchen (of the celebrated Borromeo String Quartet) and cellist Wilhelmina Smith as well as prominent guest artists.
"We are delighted to launch this collaboration which will enrich our music program, as it will the cultural opportunities for the larger College and Westchester communities," said composer and Sarah Lawrence Music Director Chester Biscardi, a 2002 recipient of the esteemed Aaron Copland Award, which included a residency at Copland House last summer.
In addition to what Music from Copland House will bring to the campus, events planned include visits by music students to Copland's home and studio. "What could be more inspirational for a young musician than to experience the intimate environment of one of the twentieth century's greatest composers?" remarked Biscardi.
Sarah Lawrence music students, in consultation with the faculty, plan the program best suited to their needs or interests. The College's emphasis is on self-directed study, believing that this approach results in as high, or even greater level, of performance and engagement than competitive performance – and allows for more creativity and experimentation. In addition to rigorous, highly individualized training which integrates theory and practice, students take supporting courses in philosophy, history, sciences, mathematics, visual arts, dance, theater, languages and literature to help them develop a deep understanding and insight into their chosen field.