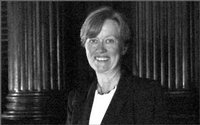 Shirley Tilghman, Princeton University's 19th president and professor of molecular biology, addressed the graduates of Sarah Lawrence College on Friday, May 23rd at 10 a.m. Over 400 undergraduate and graduate program candidates received their degrees.
In her commencement address, Dr. Tilghman talked about the importance of selective colleges continuing to enroll a broadly diverse student body—and the benefits this has on the future lives and careers of all graduates.
A native of Canada, Tilghman received her Honors B.Sc. in chemistry from Queens University in Kingston, Ontario, in 1968. After two years of secondary school teaching in Sierra Leone, West Africa, she obtained a Ph.D. in biochemistry from Temple University in Philadelphia.