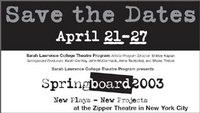 The Sarah Lawrence College Theatre Program presents Springboard '03, April 21–26 at the Zipper Theatre, 336 West 37th Street in Manhattan (between 8th and 9th Avenues.) Sponsored by the College's Theatre Program, Springboard is an exciting annual opportunity for students, faculty and alumnae/i to see new work and connect with old friends.
Springboard '03 features an informal look at new plays, performance pieces, reconstructions, and musical and dance pieces from the classes of Ernest Abuba, Paul Austin, Edward Allan Baker, Lynn Book, Kevin Confoy, Christine Farrell and Shirley Kaplan, all active theatre professionals as well as dedicated teachers.
The program opens on Monday with Song Night, performances by Shirley Kaplan's Singing Workshop, and continues throughout the week. All events are free. For more information and reservations, please call 212 459-4350. Following is the program schedule.
Monday, April 21, 2003, 7:30 p.m.
Opening Night Alumnae/i Wine and Cheese Reception
Song Night, Shirley Kaplan
Tuesday, April 22, 7:30 p.m.
Painter's Theatre, Shirley Kaplan
Voice Class, Lynn Book
New Play Reading, Karen Paisley
Wednesday, April 23, 7:30 p.m.
Production Conference for New Directors, Ernest Abuba
New Playwright's Workshop, Edward Allan Baker
Thursday, April 24, 7:30 p.m.
The Play's the Thing, Kevin Confoy
Performance Reading, Clay McLeod Chapman and Hannah Cheek
Friday, April 25, 7:30 p.m.
Graduate Actor/Director Lab, Paul Austin
" Decadent" Reading, Allen Lang
Saturday, April 26, 2:00 p.m.
Production Conference for New Musicals, Ernest Abuba
Saturday, April 26, Evening
Comedy Night, Christine Farrell
Ben Carroll Band